Free Commercial Computer Recycling
We make companies' computer recycling easy, environmentally safe and secure!

877-478-6611
YOUR COMPUTER RECYCLING AND E WASTE RECYCLING ANSWER
... with more than 15 years in the computer e waste recycling field, Forerunner Computer Recycling has given Virginia Beach, VA companies a responsible option to dispose end of life cycle and surplus computer equipment. All Virginia Beach, VA based companies face the task of safely disposing of older equipment and their e waste. The EPA estimates that as many as 500 million computers e waste will soon become obsolete.
As Virginia Beach, VA businesses upgrade existing PCs, more computers and other e waste are finding their way into the waste stream. According to the EPA, over two million tons of electronics waste is discarded each year and goes to U.S. landfills.
Now you have a partner in the computer e waste recycling business who understands your need to safely dispose of your computer and electronic equipment in an environmentally responsible manner.
By promoting reuse - computer recycling and electronic recycling - Forerunner Computer Recycling extends the life of computer equipment and reduce e waste. Recycle your computers, recycle your electronics.
Call Us Now To Easily Dispose and Recycle Your E Waste - Free!

877-478-6611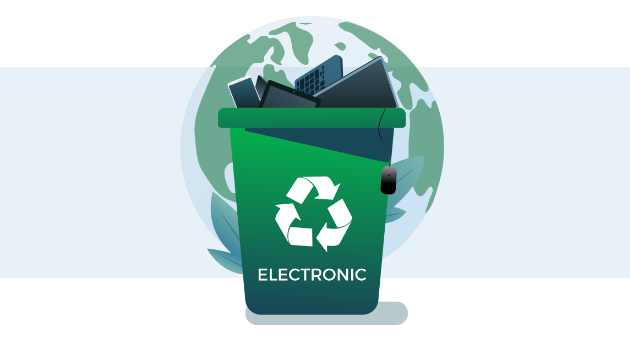 Destroy Your Data Securely
Today, more than ever, Virginia Beach, VA companies discarding computer equipment are concerned about identity theft, security compliance, and cyber criminals trying to obtain private information. Simply tossing used computer equipment and hard disks into dumpsters will leave companies vulnerable to unscrupulous individuals searching for credit card numbers, social security numbers, and other valuable data.
Forerunner Recycling, your partner in the computer e waste recycling business, understands the need to safely dispose of computer equipment in a manner that guarantees no data is available for exploitation.
Hard drives are erased using the Department of Defense's DoD 5220.22-M standard, or if necessary, hard drives are physically destroyed. We'll do whatever it takes to ensure your company data does not fall into the wrong hands.
Call For More Information

877-478-6611
Quick City Facts
Virginia Beach, VA
Form of Government
The Council - Manager Form
Size of City:
248 Square Miles
Yearly Precipitation:
45.74 inches
Elevation
Sea level to 12 Feet
Meaning of City Name:
Beach in Virgina
Major Tourist Attraction:
Virginia Aquarium and Marine Science Museum
Top Employers:
American Systems Engineering,
Amerigroup,
Manpower,
Geico Direct,
Gold Key Resorts
Top Industries:
Services, Wholesale & Retail Trade, Government
Virginia Beach: The Neptune City
The independent city of Virginia Beach is located within the boundaries of the U.S. state of Virginia. By definition, an independent city is a city that is not part of any country in particular. Unlike most cities in the United States, the independent ones are a special case because they are not part of any county. Counties are used by the United States Census Bureau for statistical purposes. Independent cities are treated as county equivalents to fulfill information databases about population, government and land area. Virginia is the only state that holds 38 independent cities, including Virginia Beach, from the total of 41 independent cities in the United States.
Geographically, the city of Virginia Beach sits at the mouth of Chesapeake Bay in the Atlantic Ocean. Since it is located in the state's southwestern corner, it is also included in America's First Region, which is the Hampton Roads. In terms of area, Virginia Beach has a total of 497 square miles, making it the largest city by area in the state of Virginia. In terms of population, the city of Virginia Beach is home to a total number of 449, 628 as of 2013. The city ranks 39th most populated city in the whole country. In addition, the city is part of the Hampton Roads metropolitan statistical area (MSA), with an estimated population of 1, 699, 925 in 2012. It ranks 37th largest MSA in the country, covering the cities like Suffolk, Hampton, Norfolk, Chesapeake and Williamsburg among others.
The city is well-known for its water resources, like beaches, lakes and rivers. Of the total area, almost half is water. Because of this fact, the city of Virginia Beach is better known as the "Neptune City". In Roman Mythology, Neptune is the god of the seas. Neptune is also a name of an existing planet that is supposedly filled with water. When the name Virginia Beach is heard, people conjure images of varied marine resources because it is undeniable that most of the tourism and economic assets are from and by the sea.
Aside from its marine resources, the city is also known for its must-visit destinations that range from cheap accommodations to top class resorts. In fact, the city is included in the Guinness Book of World Records. The title "World's Longest Pleasure Beach" was given to the city, along with the "World's Longest Bridge-Tunnel Complex" which is situated on the prized beach. Tourism is a major driving force in the city's economy, so the city government will not settle for less when it comes to infrastructure and pleasure.
Watch our Videos
Forerunner Recycling Video Highlights
Who is Forerunner Recycling?
Business Electronic Recycling
FREE Computer Recycling for Companies
We attempt to remove the financial barrier to recycling computer equipment and recycling electronics. By extracting maximum resale value from the systems we recycle, we can offer free recycling services to most of our clients.