Free Commercial Computer Recycling
We make companies' computer recycling easy, environmentally safe and secure!

877-478-6611
YOUR COMPUTER RECYCLING AND E WASTE RECYCLING ANSWER
... with more than 15 years in the computer e waste recycling field, Forerunner Computer Recycling has given Stockton, CA companies a responsible option to dispose end of life cycle and surplus computer equipment. All Stockton, CA based companies face the task of safely disposing of older equipment and their e waste. The EPA estimates that as many as 500 million computers e waste will soon become obsolete.
As Stockton, CA businesses upgrade existing PCs, more computers and other e waste are finding their way into the waste stream. According to the EPA, over two million tons of electronics waste is discarded each year and goes to U.S. landfills.
Now you have a partner in the computer e waste recycling business who understands your need to safely dispose of your computer and electronic equipment in an environmentally responsible manner.
By promoting reuse - computer recycling and electronic recycling - Forerunner Computer Recycling extends the life of computer equipment and reduce e waste. Recycle your computers, recycle your electronics.
Call Us Now To Easily Dispose and Recycle Your E Waste - Free!

877-478-6611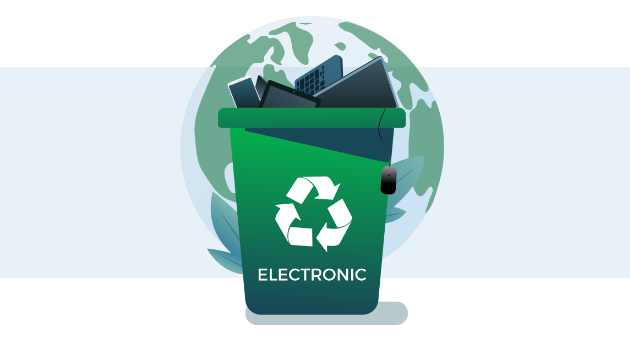 Destroy Your Data Securely
Today, more than ever, Stockton, CA companies discarding computer equipment are concerned about identity theft, security compliance, and cyber criminals trying to obtain private information. Simply tossing used computer equipment and hard disks into dumpsters will leave companies vulnerable to unscrupulous individuals searching for credit card numbers, social security numbers, and other valuable data.
Forerunner Recycling, your partner in the computer e waste recycling business, understands the need to safely dispose of computer equipment in a manner that guarantees no data is available for exploitation.
Hard drives are erased using the Department of Defense's DoD 5220.22-M standard, or if necessary, hard drives are physically destroyed. We'll do whatever it takes to ensure your company data does not fall into the wrong hands.
Call For More Information

877-478-6611
Quick City Facts
Stockton, CA
Form of Government
The Council - Manager Form
Size of City:
54.7 Square Miles
Yearly Precipitation:
16.60 inches
Meaning of City Name:
In honor of Commodore Robert F. Stockton. Stockton was the first community in California to have an English name
Major Tourist Attraction:
Pixie Woods Children's Playland
Top Employers:
St. Joseph's Medical Center,
Dameron Hospital Health Care,
Washington Mutual Financial,
University of the Pacific,
Pacific Gas & Electric
Top Industries:
Health, Finance, Education
Stockton – The City with the Passion for Music
Stockton is the county seat of the San Joaquin County in Northern California. It is the 13th largest city in the US state of California. According to the Census conducted in 2010, the city's population has reached 291,707. Stockton is located in the middle of the farmland in the Central Valley in California.
The city of Stockton offers many exciting festivals and events for you to experience and enjoy year round. The city hosts the Asparagus Festival annually. The festival is held in the Haggin Museum. The museum is an art and history museum that is built in 1983. This museum highlights the 19th century and the 20th century works of art and local historic artifacts.
When it comes to performing arts and music, Stockton is home to several exemplary performances. The Stockton Symphony is considered the third oldest orchestra in California. This professional orchestra was founded in 1926. This orchestra ranks third after the Los Angeles Philharmonics and the San Francisco Symphony. The University of the Pacific in Stockton has a music conservatory and this is home to the Brubeck Institute. The institute is named after a jazz piano legend, Dave Brubeck. This institute has a collection of the work of the music legend. The San Joaquin Delta College in the city of Stockton has a jazz program. This is home to several official jazz bands as well as unofficial jazz bands, which are composed of Delta students, Pacific students and the faculty.
There are several live music venues scattered throughout the city as well. This venue includes the Stockton Arena. The city is also home to the Civic Memorial Auditorium. This venue hosts the Apollo Night talent show, which highlights the talents of aspiring musicians of Northern California. Another famous theater in the city is the Bob Hope Theater. This was built in 1930 and this one of the movie places in the Central Valley region. Aside from these known music venues, the city is home to the Faye Spanos Concert Hall, which hosts public performances, the Warren Atherton Auditorium, and the Empire Theater. The other performing arts in Stockton include the KUDOS Children's Theatre, Stockton Ballet School, New Dance Company, Jagged Lines of Imagination Academy, and Stockton Bukkyo Taiko.
No matter what music genre you prefer, the city of Stockton always has something for you to watch and enjoy with their various music venues and talented musicians.
Watch our Videos
Forerunner Recycling Video Highlights
Who is Forerunner Recycling?
Business Electronic Recycling
FREE Computer Recycling for Companies
We attempt to remove the financial barrier to recycling computer equipment and recycling electronics. By extracting maximum resale value from the systems we recycle, we can offer free recycling services to most of our clients.