Free Commercial Computer Recycling
We make companies' computer recycling easy, environmentally safe and secure!

877-478-6611
YOUR COMPUTER RECYCLING AND E WASTE RECYCLING ANSWER
... with more than 15 years in the computer e waste recycling field, Forerunner Computer Recycling has given Scottsdale, AZ companies a responsible option to dispose end of life cycle and surplus computer equipment. All Scottsdale, AZ based companies face the task of safely disposing of older equipment and their e waste. The EPA estimates that as many as 500 million computers e waste will soon become obsolete.
As Scottsdale, AZ businesses upgrade existing PCs, more computers and other e waste are finding their way into the waste stream. According to the EPA, over two million tons of electronics waste is discarded each year and goes to U.S. landfills.
Now you have a partner in the computer e waste recycling business who understands your need to safely dispose of your computer and electronic equipment in an environmentally responsible manner.
By promoting reuse - computer recycling and electronic recycling - Forerunner Computer Recycling extends the life of computer equipment and reduce e waste. Recycle your computers, recycle your electronics.
Call Us Now To Easily Dispose and Recycle Your E Waste - Free!

877-478-6611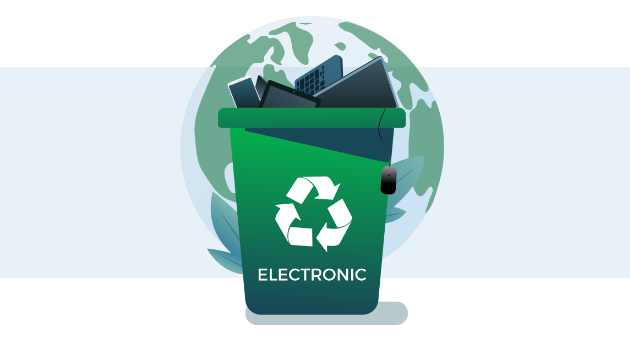 Destroy Your Data Securely
Today, more than ever, Scottsdale, AZ companies discarding computer equipment are concerned about identity theft, security compliance, and cyber criminals trying to obtain private information. Simply tossing used computer equipment and hard disks into dumpsters will leave companies vulnerable to unscrupulous individuals searching for credit card numbers, social security numbers, and other valuable data.
Forerunner Recycling, your partner in the computer e waste recycling business, understands the need to safely dispose of computer equipment in a manner that guarantees no data is available for exploitation.
Hard drives are erased using the Department of Defense's DoD 5220.22-M standard, or if necessary, hard drives are physically destroyed. We'll do whatever it takes to ensure your company data does not fall into the wrong hands.
Call For More Information

877-478-6611
Quick City Facts
Scottsdale, AZ
Form of Government
The Council - Manager Form
Size of City:
184.5 Square Miles
Yearly Precipitation:
7.05 inches
Meaning of City Name:
After U.S. Army Chaplain Winfield Scott, a Baptist minister from New York
Major Tourist Attraction:
Frank Lloyd Wright's Taliesin West
Top Employers:
Scottsdale Healthcare,
Mayo Clinic Scottsdale
General Dynamics-Decision Systems,
Scottsdale Unified School District,
Caremark
Top Industries:
Services, Trade, Finance
Celebrating Passion in All Its Forms at Scottsdale
At the heart of every vacation is passion for a new adventure, a new place, and a new means of expressing yourself. Passion is about experiencing those moments that will leave feeling enriched, renewed and energized. This is also about creating new memories that will delight as well as inspire you for a lifetime. In Scottsdale, you get to celebrate and experience passion in all its forms.
Scottsdale is a city in the Maricopa County in the state of Arizona. This is situated adjacent to the Greater Phoenix Area. The New York Times has described the city as the desert version of the South Beach in Miami. In addition, the city has a buzzing hotel experience and late night partying. With this kind of experience offered, the city has adopted the slogan, 'The West's Most Western Town.'
The tourism industry is the city's primary employer. This industry accounts for 39 percent of the city's workforce. In 2005, the city has attracted more than 7.5 million tourists to the city. This resulted to having a great economic impact. Aside from this, the city is home to 70 hotels and resorts. The city ranks third in the list of cities having the most five diamond hotels. Five hotels in the city have been awarded. These are the Canyon Suites, The Phoenician, the Fairmont Princess Resort, Scottsdale Camelback Inn and the Four Seasons Resort.
Several tourist attractions have significantly increased in the city. The city now has numerous trendy and high-end nightlife, art galleries, upscale restaurants and luxurious shopping centers. This makes the city a famous travel destination for the younger and more style conscious travelers.
The aviation industry in Scottsdale has also improved with the construction of the Scottsdale Airport. Today, the Scottsdale Airport is the listed as one of the busiest airports in the US with single-runway when it comes to aircraft operations. Nearly all operations at this airport are general aviation or corporate aviation. The area surrounding the airport has developed rapidly. Airpak, as it is locally called, has become a center for commerce.
Scottsdale also offers exciting festivals and events. These events include the Scottsdale Art Festival, Scottsdale Artwalk, the Arabian Horse Show, PRCA Rodeo, Fashion Week, and the International Film Festival. Scottsdale is also home to numerous museums and art galleries like the Scottsdale Museum of Contemporary Art, the Scottsdale Historical Museum, and the Scottsdale Museum of Contemporary Art.
Watch our Videos
Forerunner Recycling Video Highlights
Who is Forerunner Recycling?
Business Electronic Recycling
FREE Computer Recycling for Companies
We attempt to remove the financial barrier to recycling computer equipment and recycling electronics. By extracting maximum resale value from the systems we recycle, we can offer free recycling services to most of our clients.