Free Commercial Computer Recycling
We make companies' computer recycling easy, environmentally safe and secure!

877-478-6611
YOUR COMPUTER RECYCLING AND E WASTE RECYCLING ANSWER
... with more than 15 years in the computer e waste recycling field, Forerunner Computer Recycling has given Richmond, CA companies a responsible option to dispose end of life cycle and surplus computer equipment. All Richmond, CA based companies face the task of safely disposing of older equipment and their e waste. The EPA estimates that as many as 500 million computers e waste will soon become obsolete.
As Richmond, CA businesses upgrade existing PCs, more computers and other e waste are finding their way into the waste stream. According to the EPA, over two million tons of electronics waste is discarded each year and goes to U.S. landfills.
Now you have a partner in the computer e waste recycling business who understands your need to safely dispose of your computer and electronic equipment in an environmentally responsible manner.
By promoting reuse - computer recycling and electronic recycling - Forerunner Computer Recycling extends the life of computer equipment and reduce e waste. Recycle your computers, recycle your electronics.
Call Us Now To Easily Dispose and Recycle Your E Waste - Free!

877-478-6611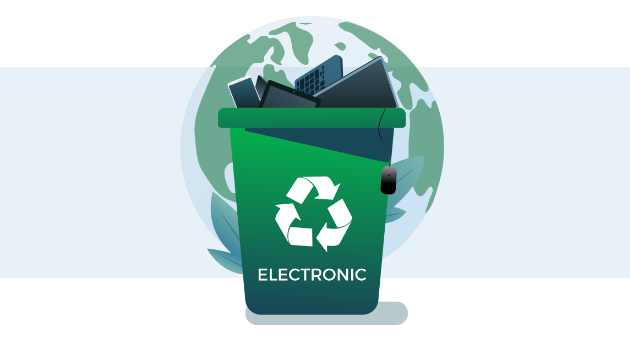 Destroy Your Data Securely
Today, more than ever, Richmond, CA companies discarding computer equipment are concerned about identity theft, security compliance, and cyber criminals trying to obtain private information. Simply tossing used computer equipment and hard disks into dumpsters will leave companies vulnerable to unscrupulous individuals searching for credit card numbers, social security numbers, and other valuable data.
Forerunner Recycling, your partner in the computer e waste recycling business, understands the need to safely dispose of computer equipment in a manner that guarantees no data is available for exploitation.
Hard drives are erased using the Department of Defense's DoD 5220.22-M standard, or if necessary, hard drives are physically destroyed. We'll do whatever it takes to ensure your company data does not fall into the wrong hands.
Call For More Information

877-478-6611
Quick City Facts
Richmond, CA
Form of Government
The Strong Mayor - Council Form
Size of City:
30.0 Square Miles
Yearly Precipitation:
25.40 inches
Meaning of City Name:
The name
Major Tourist Attraction:
Richmond Museum of History
Top Employers:
Chevron U.S.A., Refinery,
Kaiser Permanente,
West Contra Costa Unified School District,
Social Security Payment Center,
Chevron Research & Technology
Top Industries:
Health, Education, Energy
Richmond, CA – An Architectural Wonderland
Richmond, a city in the west Contra Costa County in the state of California, is a promising city in terms of economy, architecture and entertainment. The city houses both small and large industries in the past and today. The city had gunpowder and dynamite works as showcased by the Giant Powder Company. The company was closed in 1960. In addition, the city also had the last whaling station in the US at the Point Molate. This was closed in 1971. Moreover, Richmond also had one of the largest wineries in the world, Winehaven, which was later closed by Prohibition in the year 1919.
It was during the World War II when the city developed rapidly. It became an industrial town with the shipbuilding as its main industry. Today, the city continues to flourish with a promising economic growth and development as new investments and businesses make Richmond their home. One of the city's major activities today is its seaport with more 25 million tons of produce like petroleum and oil shipped. The major companies that has made Richmond their home include Chevron USA, Galaxy Desserts, and Vetrazzo.
Aside from the major developments in the business and economic aspect of the city, Richmond packs various entertainment and recreational opportunities. Architectural wonders are also abundant in Richmond. Richmond is home to several parks and recreational sites. One of the go to places in the city is Point Richmond. This is a village within Richmond complete with its quaint shops and its small town charm. This place is locally known as 'The Point.' Another top tourist site in the city is the Masquers Playhouse. This is a performing arts center. This highlights several shows and productions all year round. One of the oldest buildings in the area is the Hotel Mac. This hotel displays 20th century architecture.
One of the oldest tunnels in California, the Ferry Point Tunnel, can also be found in Richmond. This tunnel was built in 1899. This tunnel still provides access to various attractions as well as neighborhoods in the Brickyard Cove. The tunnel connects the Golden State Railroad Museum, Ferry Point, USS Red Oak Victory, and various parks and beaches. The USS Red Oak Victory is a restored victory ship of the World War II. One can also find the 'Rollercoaster Bridge' in Richmond. This is the Richmond-San Rafael Bridge. It acquired its name because of the bridge's bumps, curves and appearance.
Watch our Videos
Forerunner Recycling Video Highlights
Who is Forerunner Recycling?
Business Electronic Recycling
FREE Computer Recycling for Companies
We attempt to remove the financial barrier to recycling computer equipment and recycling electronics. By extracting maximum resale value from the systems we recycle, we can offer free recycling services to most of our clients.