Free Commercial Computer Recycling
We make companies' computer recycling easy, environmentally safe and secure!

877-478-6611
YOUR COMPUTER RECYCLING AND E WASTE RECYCLING ANSWER
... with more than 15 years in the computer e waste recycling field, Forerunner Computer Recycling has given Nashville, TN companies a responsible option to dispose end of life cycle and surplus computer equipment. All Nashville, TN based companies face the task of safely disposing of older equipment and their e waste. The EPA estimates that as many as 500 million computers e waste will soon become obsolete.
As Nashville, TN businesses upgrade existing PCs, more computers and other e waste are finding their way into the waste stream. According to the EPA, over two million tons of electronics waste is discarded each year and goes to U.S. landfills.
Now you have a partner in the computer e waste recycling business who understands your need to safely dispose of your computer and electronic equipment in an environmentally responsible manner.
By promoting reuse - computer recycling and electronic recycling - Forerunner Computer Recycling extends the life of computer equipment and reduce e waste. Recycle your computers, recycle your electronics.
Call Us Now To Easily Dispose and Recycle Your E Waste - Free!

615-547-2442

877-478-6611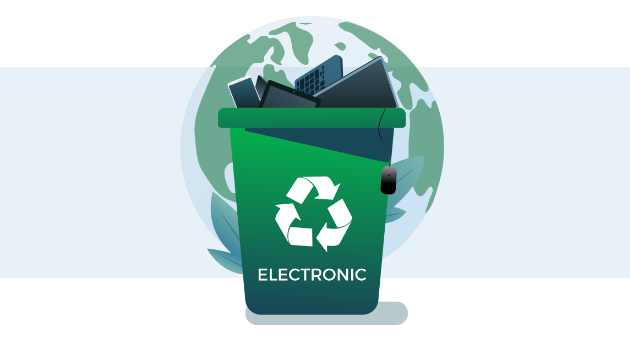 Destroy Your Data Securely
Today, more than ever, Nashville, TN companies discarding computer equipment are concerned about identity theft, security compliance, and cyber criminals trying to obtain private information. Simply tossing used computer equipment and hard disks into dumpsters will leave companies vulnerable to unscrupulous individuals searching for credit card numbers, social security numbers, and other valuable data.
Forerunner Recycling, your partner in the computer e waste recycling business, understands the need to safely dispose of computer equipment in a manner that guarantees no data is available for exploitation.
Hard drives are erased using the Department of Defense's DoD 5220.22-M standard, or if necessary, hard drives are physically destroyed. We'll do whatever it takes to ensure your company data does not fall into the wrong hands.
Call For More Information

615-547-2442

877-478-6611
Quick City Facts
Nashville, TN
Form of Government
The Strong Mayor - Council Form
Size of City:
473.3 Square Miles
Yearly Precipitation:
48.11 inches
Meaning of City Name:
Originally called Fort Nashborough, after the American Revolutionary War hero Francis Nash.
Major Tourist Attraction:
Opryland
Top Employers:
State of Tennessee,
Vanderbilt University,
U. S. Government,
Metropolitan Government - Davidson County Public Schools,
HCA - Hospital Corporation of American
Top Industries:
Government, Education, Health
Celebrating American Country Music in Nashville-Davidson
The city of Nashville is located in the U.S. state of Tennessee. It is known as the state's capital or principal city. Geographically, the city of Nashville can be found in Tennessee's north central part, along the Cumberland River. Apart from that, Nashville is also the seat of government of Davidson County. According to the 2010 census, the overall population of Nashville is 626, 681, including the six municipalities. In terms of population, Nashville is the 5th largest in Southeastern America, and the second largest in the state of Tennessee. It is only second to the city of Memphis.
The U.S. Census Bureau also notes the population of Nashville-Davidson. Nashville-Davidson is a name which describes a portion of Davidson County and the whole city of Nashville without other metropolitan areas or so-called satellite cities, such as Berry Hill, Oak Hill, Forest Hills, Lakewood, Belle Meade and Ridge Top among others.
The origins of country music were said to be from the rural regions in the southern parts of the United States. American music is indeed a popular category, and one of its best-selling genres is country music. Country music is formed from different music styles, such as Western Swing, Irish music, Appalachian folk music and Anglo-Celtic music among others. During the 1920s, the genre was discovered and it gained popularity in the 1940s. Country music is prevalent in the 21st century. This fact is supported by statistics as radio stations found out in surveys that country music is highly preferred during evening rush hour and the morning commute. Country music is truly a preference among radio listeners of all ages.
Nashville is said to be the home of country music. It is situated in the southern rural regions, which is where the American country music originated. There are a lot of facts that support Nashville as the source of American country music, starting with the fact that the city is named as the Music City in the United States. Its thriving music industry can be credited to the multi-million dollar industry of country music. The city is also the hometown of some music producers who brought country music to a diversified audience. Chet Atkins and Owen Bradley are famous figures of country music, and they did their best in letting the genre get the attention it deserves. Through the years, country music evolved into other sub-genres, such as Countrypolitan. The peak of country music gave rise to country music artists such as Lynn Anderson, Tammy Wynette and Charlie Rich. The legacy in country music will forever live with the Country Music Hall of Fame and Museum established in the 1961.
Watch our Videos
Forerunner Recycling Video Highlights
Who is Forerunner Recycling?
Business Electronic Recycling
FREE Computer Recycling for Companies
We attempt to remove the financial barrier to recycling computer equipment and recycling electronics. By extracting maximum resale value from the systems we recycle, we can offer free recycling services to most of our clients.