Free Commercial Computer Recycling
We make companies' computer recycling easy, environmentally safe and secure!

877-478-6611
YOUR COMPUTER RECYCLING AND E WASTE RECYCLING ANSWER
... with more than 15 years in the computer e waste recycling field, Forerunner Computer Recycling has given Mcallen, TX companies a responsible option to dispose end of life cycle and surplus computer equipment. All Mcallen, TX based companies face the task of safely disposing of older equipment and their e waste. The EPA estimates that as many as 500 million computers e waste will soon become obsolete.
As Mcallen, TX businesses upgrade existing PCs, more computers and other e waste are finding their way into the waste stream. According to the EPA, over two million tons of electronics waste is discarded each year and goes to U.S. landfills.
Now you have a partner in the computer e waste recycling business who understands your need to safely dispose of your computer and electronic equipment in an environmentally responsible manner.
By promoting reuse - computer recycling and electronic recycling - Forerunner Computer Recycling extends the life of computer equipment and reduce e waste. Recycle your computers, recycle your electronics.
Call Us Now To Easily Dispose and Recycle Your E Waste - Free!

877-478-6611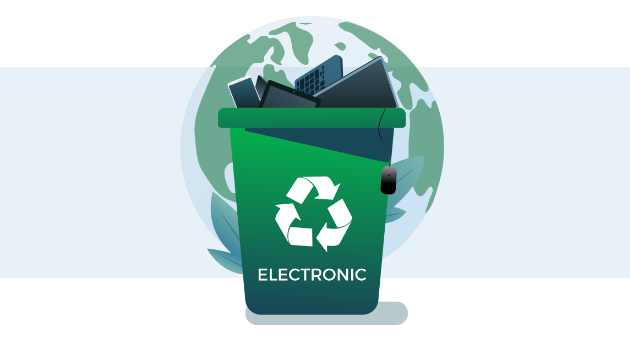 Destroy Your Data Securely
Today, more than ever, Mcallen, TX companies discarding computer equipment are concerned about identity theft, security compliance, and cyber criminals trying to obtain private information. Simply tossing used computer equipment and hard disks into dumpsters will leave companies vulnerable to unscrupulous individuals searching for credit card numbers, social security numbers, and other valuable data.
Forerunner Recycling, your partner in the computer e waste recycling business, understands the need to safely dispose of computer equipment in a manner that guarantees no data is available for exploitation.
Hard drives are erased using the Department of Defense's DoD 5220.22-M standard, or if necessary, hard drives are physically destroyed. We'll do whatever it takes to ensure your company data does not fall into the wrong hands.
Call For More Information

877-478-6611
Quick City Facts
Mcallen, TX
Form of Government
The Council - Manager Form
Size of City:
46.0 Square Miles
Yearly Precipitation:
22.61 inches
Meaning of City Name:
After John McAllen
Major Tourist Attraction:
Edinburg
Top Employers:
Edinburg Consolidated I.S.D.,
McAllen Independent School District,
Edinburg Regional Medical Center,
University of Texas Pan American,
McAllen Medical Center
Top Industries:
Manufacturing, Education, Health
McAllen: The Texas Tropics
McAllen is the 20th most populous city in Texas. Aside from this, this is the largest city in the Hidalgo County, Texas. The place is at the southern tip in the Rio Grande Valley. Thus, this is part of the southern United States. The place has the following nicknames the City of Palms or the Texas Tropics because of its semi-tropical climate. Its average daily temperature reaches 74 degrees. The place also is rather fortunate to have rainfall and good weather. In fact, its climate is ideal for growing fresh vegetables all year round.
McAllen actually promotes an atmosphere of relaxation. With this atmosphere, locals and tourists alike remember that do not need to rush around just so they can feel alive. In addition to this kind of atmosphere, McAllen has a colorful influence when it comes to music, language, and architecture all over the town. This is one of the most southerly cities in the US. Reach the place and explore its wonders as this is just 40 minutes away from the Gulf of Mexico and the South Padre Island and 3 miles from the Mexican border.
McAllen is also a haven for music lovers. The place offers a variety of musical events like concerts, musicals, choirs, square dancing calls and South Texas music. The place features with vibrant festivals as it celebrates life as well as its multicultural heritage all year round.
During the winter months, McAllen is still packed with events and visiting Winter Texans. The town offers diversity of nature that both the locals and tourists can experience and enjoy. Bird enthusiasts can enjoy watching rare bird species at the Rio Grande Valley State Park. This park is open year round and this is a birder's paradise. Aside from this, McAllen is also the perfect place to visit if you are looking forward for a weekend of outdoor fun. Set up camp, launch a boat and you are good to go.
McAllen does not only offer recreation for humans as the place has recreation for dogs of all sizes. The McAllen Dog Park is a well-known place located at the 2nd Street and the Tamarack. The park features two sections, one section each for small dogs and big dogs.
As the city flourished, more and more people come to visit and stay at the city. The city's increase of population has led to the solid growth in the city's economy. In addition, this has increased various sectors of employment. Moreover, this has increased trade with Mexico. With the growing economic demand, McAllen is prepared.
Watch our Videos
Forerunner Recycling Video Highlights
Who is Forerunner Recycling?
Business Electronic Recycling
FREE Computer Recycling for Companies
We attempt to remove the financial barrier to recycling computer equipment and recycling electronics. By extracting maximum resale value from the systems we recycle, we can offer free recycling services to most of our clients.