Free Commercial Computer Recycling
We make companies' computer recycling easy, environmentally safe and secure!

877-478-6611
YOUR COMPUTER RECYCLING AND E WASTE RECYCLING ANSWER
... with more than 15 years in the computer e waste recycling field, Forerunner Computer Recycling has given Madison, WI companies a responsible option to dispose end of life cycle and surplus computer equipment. All Madison, WI based companies face the task of safely disposing of older equipment and their e waste. The EPA estimates that as many as 500 million computers e waste will soon become obsolete.
As Madison, WI businesses upgrade existing PCs, more computers and other e waste are finding their way into the waste stream. According to the EPA, over two million tons of electronics waste is discarded each year and goes to U.S. landfills.
Now you have a partner in the computer e waste recycling business who understands your need to safely dispose of your computer and electronic equipment in an environmentally responsible manner.
By promoting reuse - computer recycling and electronic recycling - Forerunner Computer Recycling extends the life of computer equipment and reduce e waste. Recycle your computers, recycle your electronics.
Call Us Now To Easily Dispose and Recycle Your E Waste - Free!

877-478-6611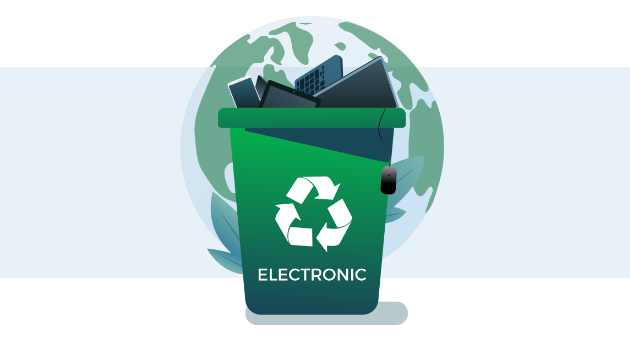 Destroy Your Data Securely
Today, more than ever, Madison, WI companies discarding computer equipment are concerned about identity theft, security compliance, and cyber criminals trying to obtain private information. Simply tossing used computer equipment and hard disks into dumpsters will leave companies vulnerable to unscrupulous individuals searching for credit card numbers, social security numbers, and other valuable data.
Forerunner Recycling, your partner in the computer e waste recycling business, understands the need to safely dispose of computer equipment in a manner that guarantees no data is available for exploitation.
Hard drives are erased using the Department of Defense's DoD 5220.22-M standard, or if necessary, hard drives are physically destroyed. We'll do whatever it takes to ensure your company data does not fall into the wrong hands.
Call For More Information

877-478-6611
Quick City Facts
Madison, WI
Form of Government
The Strong Mayor - Council Form
Size of City:
68.7 Square Miles
Yearly Precipitation:
30.16 inches of rain; 37 inches of snow
Meaning of City Name:
Madison in honor of James Madison, the former United States President
Major Tourist Attraction:
University of Wisconsin
Top Employers:
U W-Madison,
Madison Metropolitan School District,
American Family Mutual Insurance Co,
Uw Hospitals & Clinics Authority,
Department of Health Services
Top Industries:
Government, Services, Wholesale & Retail Trade
Madison: The Perfect Background for Movies
The city of Madison is located in the U.S. state of Wisconsin, of which it is considered as the state's capital city. Geographically, the city of Madison can be found in Dane County, wherein it functions as the county seat of government. Since it is located in the heart of the county, it is located northwest of Chicago and west of Milwaukee. Smaller communities such as Monona, Town of Madison, Shorewood Hills and Maple Bluff surround the city of Madison. Furthermore, the city's borders are shared with Sun Prairie, Madison's largest suburb. The Census Bureau records 94.04 square miles of land and 17.24 square miles of water in the city of Madison.
According to the United States Census Bureau, the city of Madison has a total population of 233, 209 as of 2010, however, it is predicted to increase to 240, 323 in 2012. Currently, the city is the 2nd largest in the state, and the 81st largest in the United States. Its urban area has a population of 329, 533, which ranks as the 92nd largest urban population in the United States. In addition, the Madison metropolitan area includes the counties of Iowa and Columbia, and has a population of 568, 593, which ranks 86th largest MSA nationwide.
The city of Madison has acquired many nicknames since its incorporation in the year 1848. Some of the nicknames include Lake City, Mad City, Four Lakes City, Madtown, the Berkeley of the Midwest, the Paris of South- Central Wisconsin, the Athens of the Midwest, and the People's Republic of Madison among others. Some of the titles refer to the geographical feature of the city, while others refer to the cultural aspect of Madison.
The culture of Madison is indeed different from other cities because it presents a balance of different aspects, such as music, architecture, performing arts, festivals, film and other points of interest for locals and foreign tourists alike. The film industry is very alive in Madison. In fact, the city has been featured in more or less 12 movies and documentaries since the year 1977. The documentary, "The War at Home" was filmed in the city to record the anti-Vietnam war movement. Another notable movie is the comedy, "Back to School". Madison was the backdrop for the said 1986 movie. Other movies that used the city as a backdrop are Stroszek (1977), Public Enemies (2009), I Love Trouble (1994) and Barefoot to Jerusalem (2008).
Watch our Videos
Forerunner Recycling Video Highlights
Who is Forerunner Recycling?
Business Electronic Recycling
FREE Computer Recycling for Companies
We attempt to remove the financial barrier to recycling computer equipment and recycling electronics. By extracting maximum resale value from the systems we recycle, we can offer free recycling services to most of our clients.