Free Commercial Computer Recycling
We make companies' computer recycling easy, environmentally safe and secure!

877-478-6611
YOUR COMPUTER RECYCLING AND E WASTE RECYCLING ANSWER
... with more than 15 years in the computer e waste recycling field, Forerunner Computer Recycling has given Macon, GA companies a responsible option to dispose end of life cycle and surplus computer equipment. All Macon, GA based companies face the task of safely disposing of older equipment and their e waste. The EPA estimates that as many as 500 million computers e waste will soon become obsolete.
As Macon, GA businesses upgrade existing PCs, more computers and other e waste are finding their way into the waste stream. According to the EPA, over two million tons of electronics waste is discarded each year and goes to U.S. landfills.
Now you have a partner in the computer e waste recycling business who understands your need to safely dispose of your computer and electronic equipment in an environmentally responsible manner.
By promoting reuse - computer recycling and electronic recycling - Forerunner Computer Recycling extends the life of computer equipment and reduce e waste. Recycle your computers, recycle your electronics.
Call Us Now To Easily Dispose and Recycle Your E Waste - Free!

877-478-6611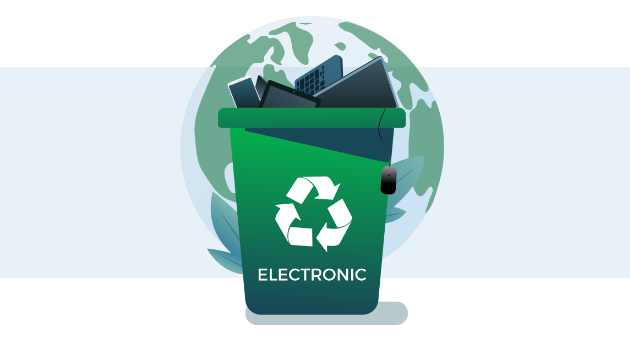 Destroy Your Data Securely
Today, more than ever, Macon, GA companies discarding computer equipment are concerned about identity theft, security compliance, and cyber criminals trying to obtain private information. Simply tossing used computer equipment and hard disks into dumpsters will leave companies vulnerable to unscrupulous individuals searching for credit card numbers, social security numbers, and other valuable data.
Forerunner Recycling, your partner in the computer e waste recycling business, understands the need to safely dispose of computer equipment in a manner that guarantees no data is available for exploitation.
Hard drives are erased using the Department of Defense's DoD 5220.22-M standard, or if necessary, hard drives are physically destroyed. We'll do whatever it takes to ensure your company data does not fall into the wrong hands.
Call For More Information

877-478-6611
Quick City Facts
Macon, GA
Form of Government
The Strong Mayor - Council Form
Size of City:
55.8 Square Miles
Yearly Precipitation:
45 inches
Meaning of City Name:
In honor of North Carolina statesman Nathaniel Macon because many of the city's early settlers hailed from North Carolina
Major Tourist Attraction:
Downtown Macon
Top Employers:
Medical Center of Central Georgia,
SAIC,
Northrop Grumman,
Bae Systems
Top Industries:
Health, Manufacturing, Technology
The Culture and Arts of Macon
In the central portion of the U.S. state of Georgia sits the consolidated city-county of Macon. Geographically, the city-county is part of the Bibb County. It is called the Heart of Georgia because of its convenient location within the borders of the state. The city of Macon is also considered as one of the state's Fall Line Cities. The two other cities who share this recognition are Columbus and Augusta. The Fall Line is a geographical feature located at the meeting point of the coastal plain and Piedmont plateau. Since Macon is one of the three cities to be situated along the Fall Line, the city is blessed with rivers that could run textile mills in the past. Today, the city has the Ocmulgee River within its borders.
According to the United States Census Bureau, the city-county has a total population of 155, 369. Its metropolitan area has an estimated population of 222, 388, which ranks as the 190th largest MSA in the whole county. In addition, the city of Macon is part of the larger Macon- Warner- Robins Combined Statistical Area (CSA), of which Macon is the most populated. The CSA has a population of 404, 668, which ranks the 82nd largest CSA in the United States.
Among the many cultural attractions it boasts, the city of Macon is known for its musical heritage. A lot of famous musicians call the city their home even before they have shown interest in music, including Little Richard, Randy Crawford, Bill Berry, Mark Heard, Lucille Heamin, Emmett Miller, Robert McDuffe, Jason Aldean, Otis Redding and the Allman Brothers Band among others. In the 1960s and 1970s, the city was also recognized as the center for Southern rock music. Another group that boasts the heritage of music in the place is the Macon Symphony Orchestra.
When it comes to festivals, the city of Macon has no shortage. Annually, the city hosts the Mulberry Street Festival in March, International Cherry Blossom Festival in Mid-March, Ocmulgee Indian Celebration in September, Georgia State Fair in May, Pan African Festival in April, the Macon Film Festival (MaGa), Giergia Music Week in September and the Bragg Jam Festival which is a Pub Crawl help annually.
History is not lost in Macon. There are a lot of historical sites within the boundaries of the city, including the Ocmulgee National Monument, the Cannonball House, Rose Hill Cemetery, Temple Beth Israel and Fort Benjamin Hawkins among others. Museums like the Museum of Arts and Sciences (Macon) and the Georgia Sports Hall of Fame are also open to the public.
Watch our Videos
Forerunner Recycling Video Highlights
Who is Forerunner Recycling?
Business Electronic Recycling
FREE Computer Recycling for Companies
We attempt to remove the financial barrier to recycling computer equipment and recycling electronics. By extracting maximum resale value from the systems we recycle, we can offer free recycling services to most of our clients.