Free Commercial Computer Recycling
We make companies' computer recycling easy, environmentally safe and secure!

877-478-6611
YOUR COMPUTER RECYCLING AND E WASTE RECYCLING ANSWER
... with more than 15 years in the computer e waste recycling field, Forerunner Computer Recycling has given Lawton, OK companies a responsible option to dispose end of life cycle and surplus computer equipment. All Lawton, OK based companies face the task of safely disposing of older equipment and their e waste. The EPA estimates that as many as 500 million computers e waste will soon become obsolete.
As Lawton, OK businesses upgrade existing PCs, more computers and other e waste are finding their way into the waste stream. According to the EPA, over two million tons of electronics waste is discarded each year and goes to U.S. landfills.
Now you have a partner in the computer e waste recycling business who understands your need to safely dispose of your computer and electronic equipment in an environmentally responsible manner.
By promoting reuse - computer recycling and electronic recycling - Forerunner Computer Recycling extends the life of computer equipment and reduce e waste. Recycle your computers, recycle your electronics.
Call Us Now To Easily Dispose and Recycle Your E Waste - Free!

877-478-6611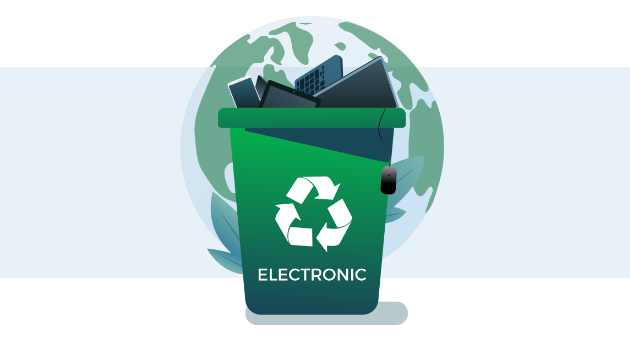 Destroy Your Data Securely
Today, more than ever, Lawton, OK companies discarding computer equipment are concerned about identity theft, security compliance, and cyber criminals trying to obtain private information. Simply tossing used computer equipment and hard disks into dumpsters will leave companies vulnerable to unscrupulous individuals searching for credit card numbers, social security numbers, and other valuable data.
Forerunner Recycling, your partner in the computer e waste recycling business, understands the need to safely dispose of computer equipment in a manner that guarantees no data is available for exploitation.
Hard drives are erased using the Department of Defense's DoD 5220.22-M standard, or if necessary, hard drives are physically destroyed. We'll do whatever it takes to ensure your company data does not fall into the wrong hands.
Call For More Information

877-478-6611
Quick City Facts
Lawton, OK
Form of Government
The Council - Manager Form
Size of City:
75.1 Square Miles
Yearly Precipitation:
31.6 inches
Meaning of City Name:
Named for General Henry W. Lawton, who had been quartermaster at Fort Sill and part of the pursuit and capture of Geronimo
Major Tourist Attraction:
Fort Sill Military Reservation and National Historic Landmark
Top Employers:
Fort Sill,
Goodyear Tire & Rubber Company,
Lawton Public Schools,
Comanche County Memorial Hospital,
Wal-Mart /Sams
Top Industries:
Government, Manufacturing. Retail Trade
Lawton, Oklahoma, A Place of Natural Beauty
Lawton, Oklahoma, the county seat of the Comanche County, was named after Major General Henry W. Lawton, a distinguished man in the Spanish-American War. Located in the Southwest of Oklahoma, Lawton is the place for the Fort Sill Military Reservation, the economic point of the city and is becoming a world-class business destination for many people. Lawton, Oklahoma is surrounded by four mountain ranges and forest.
Lawton plays a significant role as to why the Oklahoma is ranked among the top five in the country to create jobs and to provide employment. The Fort Sill, as the largest employer, provides employment to more than five thousand full-time workers. Being included in the largest states that produce natural gas, wheat, cattle, and calf, the city is proud to be on its economic growth. New investments and expansions continue to make the city a place for industrial opportunities for residents and investors. The Goodyear Tire and Rubber Company is one of its largest employers.
Transportation in Lawton is easy, with two major international airports, The Lawton-Fort Sill Regional Airport and the Will Rogers World Airport, air travel here is among the easiest throughout the country. Railroad system is also available and accessible anytime. The Stillwater Central Railroad, operating only for 275 miles, can be your easy way out if you want to transport cargos from Lawton to other parts of the county.
The tourism in Lawton is significant also to the rise of its economy because the town is surrounded with rich and beautiful natural scenery that invites many visitors to tour around the place. Though one major reason for tourism is the attendance to the annual graduation in the Fort Sill Military, many foreigners are also attracted to stay here for outdoor activities, such as boating, fishing, and camping. There are also around eighty parks within Lawton, where people can enjoy different outdoor activities. The climate is always almost favorable, with sunny and warm days all throughout the year. Lawton also has two enchanting Region Lakes that are perfect for any of the outdoor activities for families.
There are several notable museums as well, and one of that is the Museum of the Great Plains, which is known to show many historical artifacts about the Great Plains. Aside from the art galleries, cinemas, casinos, theatres, water parks, restaurants, hotels, bars, and sports recreation centers, Lawton also boast of its Wichita Mountains Wildlife Refuge, which is a home to hundreds of animal and plant species.
Watch our Videos
Forerunner Recycling Video Highlights
Who is Forerunner Recycling?
Business Electronic Recycling
FREE Computer Recycling for Companies
We attempt to remove the financial barrier to recycling computer equipment and recycling electronics. By extracting maximum resale value from the systems we recycle, we can offer free recycling services to most of our clients.