Free Commercial Computer Recycling
We make companies' computer recycling easy, environmentally safe and secure!

877-478-6611
YOUR COMPUTER RECYCLING AND E WASTE RECYCLING ANSWER
... with more than 15 years in the computer e waste recycling field, Forerunner Computer Recycling has given Glendale, AZ companies a responsible option to dispose end of life cycle and surplus computer equipment. All Glendale, AZ based companies face the task of safely disposing of older equipment and their e waste. The EPA estimates that as many as 500 million computers e waste will soon become obsolete.
As Glendale, AZ businesses upgrade existing PCs, more computers and other e waste are finding their way into the waste stream. According to the EPA, over two million tons of electronics waste is discarded each year and goes to U.S. landfills.
Now you have a partner in the computer e waste recycling business who understands your need to safely dispose of your computer and electronic equipment in an environmentally responsible manner.
By promoting reuse - computer recycling and electronic recycling - Forerunner Computer Recycling extends the life of computer equipment and reduce e waste. Recycle your computers, recycle your electronics.
Call Us Now To Easily Dispose and Recycle Your E Waste - Free!

877-478-6611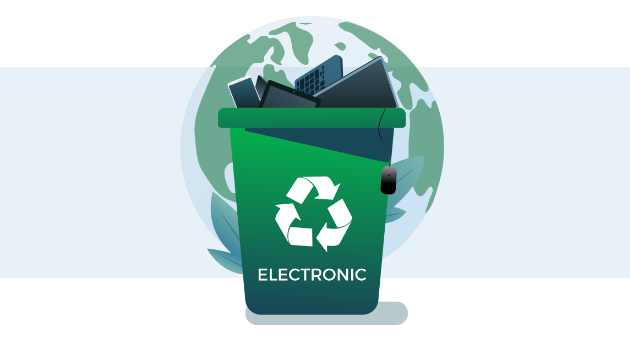 Destroy Your Data Securely
Today, more than ever, Glendale, AZ companies discarding computer equipment are concerned about identity theft, security compliance, and cyber criminals trying to obtain private information. Simply tossing used computer equipment and hard disks into dumpsters will leave companies vulnerable to unscrupulous individuals searching for credit card numbers, social security numbers, and other valuable data.
Forerunner Recycling, your partner in the computer e waste recycling business, understands the need to safely dispose of computer equipment in a manner that guarantees no data is available for exploitation.
Hard drives are erased using the Department of Defense's DoD 5220.22-M standard, or if necessary, hard drives are physically destroyed. We'll do whatever it takes to ensure your company data does not fall into the wrong hands.
Call For More Information

877-478-6611
Quick City Facts
Glendale, AZ
Form of Government
The Council - Manager Form
Size of City:
55.8 Square Miles
Yearly Precipitation:
8.3 inches
Meaning of City Name:
While there are many versions of how Glendale got its name, historians are fairly sure that W.J. Murphy himself chose it; however, they do not know why he picked the name Glendale.
Major Tourist Attraction:
Historic Downtown
Top Employers:
Luke Air Force Base,
Arrowhead Towne Center,
Thunderbird Samaritan Medical Center,
Honeywell,
City of Glendale
Top Industries:
Government, Health, Construction
Glendale: The Antique Capital of Arizona
The city of Glendale can be found in the U.S. state of Arizona. The city sits within the borders of Maricopa County. Geographically, it can be located in the northwest from the central business district called Downtown Phoenix. The city has a total area of 55.8 square miles; with only 0.1 square miles is water. The rest of the area is land. According to the United States Census Bureau, the city of Glendale has a total population of 226, 721 as of the year 2010.
The city of Glendale started as an empty land which was used by William John Murphy to gain funds for the construction and expansion of the Arizona Canal. Murphy is a native of New York who was living in Flagstaff town in Arizona. He was commissioned to build the 40-mile canal which would help distribute the water to the different parts of the desert in Arizona. He was in great debt when he completed it for the Arizona Canal Company only paid him land, and stock and bonds of the company. Murphy created the Arizona Improvement Company in the year 1887, with the goal of selling the water and land rights just to gather funds for the construction expenses and payroll. The land was then called Glendale. Murphy also built the Grand Avenue, a long road which provided easy access to the people from Phoenix, Arizona's capital, to Glendale.
Through the years, the city expanded into a mercantile industry. Settlers have begun to live in the city since 1891. The alcoholic beverages were also an interest to a lot of people outside the city, leading to the influx of tourists at certain points of the year. Nowadays, the city of Glendale adopted another name to distinguish it from other cities in the state of Arizona. It is now called the "Arizona's Antique Capital". The claim is supported by the 1998 USA Today article, as well as the 2004 Sunset magazine.
The name started to circulate when the settlers in the city began opening antique stores that sell various products from different generations. These specialty shops and boutiques are prevalent in the historic downtown area. In the year 2014, Glendale is home to a total of 90 antique shops, specialty stores, and unique boutiques that provide aim to preserve the legacies of the town, as well as the state's. Some of the famous antique shops and cafes include Old Town Scottsdale, Zang's Oriental Restaurant, A Mad Hatter's Antiques & Collectibles, Antique Haven, Country Haven and Lois Loveables Antiques.
Watch our Videos
Forerunner Recycling Video Highlights
Who is Forerunner Recycling?
Business Electronic Recycling
FREE Computer Recycling for Companies
We attempt to remove the financial barrier to recycling computer equipment and recycling electronics. By extracting maximum resale value from the systems we recycle, we can offer free recycling services to most of our clients.