Free Commercial Computer Recycling
We make companies' computer recycling easy, environmentally safe and secure!

877-478-6611
YOUR COMPUTER RECYCLING AND E WASTE RECYCLING ANSWER
... with more than 15 years in the computer e waste recycling field, Forerunner Computer Recycling has given Chesapeake, VA companies a responsible option to dispose end of life cycle and surplus computer equipment. All Chesapeake, VA based companies face the task of safely disposing of older equipment and their e waste. The EPA estimates that as many as 500 million computers e waste will soon become obsolete.
As Chesapeake, VA businesses upgrade existing PCs, more computers and other e waste are finding their way into the waste stream. According to the EPA, over two million tons of electronics waste is discarded each year and goes to U.S. landfills.
Now you have a partner in the computer e waste recycling business who understands your need to safely dispose of your computer and electronic equipment in an environmentally responsible manner.
By promoting reuse - computer recycling and electronic recycling - Forerunner Computer Recycling extends the life of computer equipment and reduce e waste. Recycle your computers, recycle your electronics.
Call Us Now To Easily Dispose and Recycle Your E Waste - Free!

877-478-6611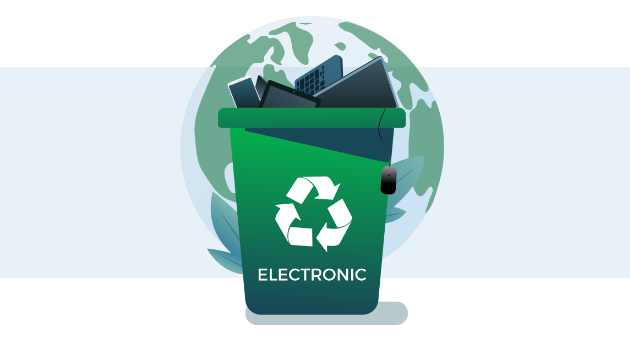 Destroy Your Data Securely
Today, more than ever, Chesapeake, VA companies discarding computer equipment are concerned about identity theft, security compliance, and cyber criminals trying to obtain private information. Simply tossing used computer equipment and hard disks into dumpsters will leave companies vulnerable to unscrupulous individuals searching for credit card numbers, social security numbers, and other valuable data.
Forerunner Recycling, your partner in the computer e waste recycling business, understands the need to safely dispose of computer equipment in a manner that guarantees no data is available for exploitation.
Hard drives are erased using the Department of Defense's DoD 5220.22-M standard, or if necessary, hard drives are physically destroyed. We'll do whatever it takes to ensure your company data does not fall into the wrong hands.
Call For More Information

877-478-6611
Quick City Facts
Chesapeake, VA
Form of Government
The Council - Manager Form
Size of City:
350.9 Square Miles
Yearly Precipitation:
45.74 inches
Meaning of City Name:
The modern spelling of the word Chesapeake comes from the Algonquian word
Major Tourist Attraction:
Chesapeake Planetarium
Top Employers:
Westar Corporation,
George W Neal Trustee,
B C Custom Framing Inc,
Debco,
Channell Builders, Inc
Top Industries:
Construction, Manufacturing, Finance
The Thriving Fauna in Chesapeake Bay
In the U.S. state of Virginia lies the independent city of Chesapeake. Geographically, the city is a mixture of urban and natural areas, which consists of miles of protected forests, farmlands and wetlands, including the Great Dismal Swamp's southwestern section, a part of Virginia's Coastal Plain Region. Chesapeake is just adjacent to the Portsmouth and Norfolk cities, extending out from North Carolina's rural border to the Hampton Roads' harbor area. The city is generally placed in the Atlantic Intracoastal Waterway, which blessed the city with waterfront residential, industrial and commercial properties. By land area, Chesapeake ranks as the 2nd largest city in the Commonwealth of Virginia.
According to the 2013 census, Chesapeake has an estimated population of 232, 977, justifying its rank as the state of Virginia's 3rd most populous city. The city is also included in the Metropolitan Area of Hamptons Road, which consists of cities such as Newport, Norfolk, Williamsburg, Portsmouth, Hampton, Suffolk, and Poquoson.
When the independent city of Chesapeake is mentioned, most people would connect the reference to Chesapeake Bay, known as the largest estuary in the United States. Geographically, the enclosed coastal area is connected to the Atlantic Ocean. Approximately, the Chesapeake Bay is measured as 200 miles long, extending from Maryland, specifically, Havre de Grace to Virginia Beach in the state of Virginia. In terms of width, the Bay has a 4-mile width in Maryland, and almost a 30-mile width in Virginia. The average depth of Chesapeake Bay is 21 feet, and other parts are just shallow. In addition, Baltimore and Hampton Roads, two of the country's major North Atlantic ports are found in Chesapeake Bay.
Overall, there are 2,700 species of fauna and flora in the Chesapeake Bay. Some are still being discovered up to this day. The thriving ecosystem leads to a rich culture of seafood that reaches 500 million pounds on an annual basis. While the freshwater holds a diverse category of seafood, the wetlands provide a home to various species of birds, mammals, reptiles among others. The ecosystem of the Chesapeake Bay is indeed an important part of the biosphere because it supports different species of animals, and lets them breed on its marshlands and watery beds. Records show that the Chesapeake Bay is a place for red foxes, willets, summer flounders, sea turtles, boring sponges, double-crested cormorants, Atlantic sturgeons, horseshoe crabs, wood ducks, bobcats, eastern oysters, Great Blue herons, bald eagles, striped basses and ospreys among others.
Watch our Videos
Forerunner Recycling Video Highlights
Who is Forerunner Recycling?
Business Electronic Recycling
FREE Computer Recycling for Companies
We attempt to remove the financial barrier to recycling computer equipment and recycling electronics. By extracting maximum resale value from the systems we recycle, we can offer free recycling services to most of our clients.