Free Commercial Computer Recycling
We make companies' computer recycling easy, environmentally safe and secure!

877-478-6611
YOUR COMPUTER RECYCLING AND E WASTE RECYCLING ANSWER
... with more than 15 years in the computer e waste recycling field, Forerunner Computer Recycling has given Bridgeport, CT companies a responsible option to dispose end of life cycle and surplus computer equipment. All Bridgeport, CT based companies face the task of safely disposing of older equipment and their e waste. The EPA estimates that as many as 500 million computers e waste will soon become obsolete.
As Bridgeport, CT businesses upgrade existing PCs, more computers and other e waste are finding their way into the waste stream. According to the EPA, over two million tons of electronics waste is discarded each year and goes to U.S. landfills.
Now you have a partner in the computer e waste recycling business who understands your need to safely dispose of your computer and electronic equipment in an environmentally responsible manner.
By promoting reuse - computer recycling and electronic recycling - Forerunner Computer Recycling extends the life of computer equipment and reduce e waste. Recycle your computers, recycle your electronics.
Call Us Now To Easily Dispose and Recycle Your E Waste - Free!

877-478-6611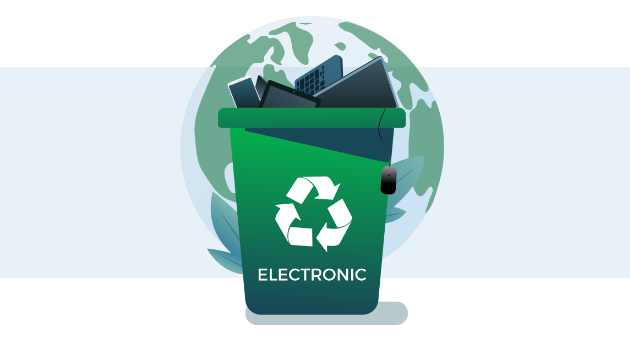 Destroy Your Data Securely
Today, more than ever, Bridgeport, CT companies discarding computer equipment are concerned about identity theft, security compliance, and cyber criminals trying to obtain private information. Simply tossing used computer equipment and hard disks into dumpsters will leave companies vulnerable to unscrupulous individuals searching for credit card numbers, social security numbers, and other valuable data.
Forerunner Recycling, your partner in the computer e waste recycling business, understands the need to safely dispose of computer equipment in a manner that guarantees no data is available for exploitation.
Hard drives are erased using the Department of Defense's DoD 5220.22-M standard, or if necessary, hard drives are physically destroyed. We'll do whatever it takes to ensure your company data does not fall into the wrong hands.
Call For More Information

877-478-6611
Quick City Facts
Bridgeport, CT
Form of Government
The Strong Mayor - Council Form
Size of City:
19.4 Square Miles
Yearly Precipitation:
15.5 inches of rain; 26.2 inches of snow
Meaning of City Name:
Not explained
Major Tourist Attraction:
Barnum Museum
Top Employers:
Bridgeport Hospital,
People's Bank,
St. Vincent's Medical Center,
Bridgeport Health Care Center,
Sikorsky Aircraft
Top Industries:
Manufacturing, Trade, Government
Learning Things about the 5th Largest City in New England, Bridgeport
It is situated at the mouth of the Pequannock River along. Bridgeport has been a very progressive city in the early days because of the rapidly growing and availability of industrial jobs. It was the best years of the city until after the World War II. The events occurring after have been marked in the history of the place because the drastic changes in economic status were brought by deindustrialization. The reconstruction in the industry field causes so much loss of in the city, which result in poverty in the whole land of Bridgeport. It was only on the 21st century that the city was able to move on from their dark past as they have converted those old office buildings to residential spots, inviting more immigrants.
P.T. Barnum, the former mayor and at the same time a circus-promoter has entertained the residents in Bridgeport, especially during winters, where circus presentations are held. /p>
The early life of the inhabitants in Bridgeport was more on fishing and farming, as they have continued the way of living of their first settlers, which are the Native Americans. They planted corn and other crops and these have become their primary food sources. The shipbuilding has boomed because their location at the deep Newfield harbor. It was in the 19th century that the city became more industrialized at it becomes the manufacturing center. There were many machines that have been produced in the market, which yield more income to the city. One of the most famous factories Wheeler and Wilson have made the industrialization in Bridgeport underway. The inhabitants are starting to trade globally, distributing more of their products not just from the neighboring towns, but across rivers and mountains reaching the other sides of the world. Almost 500 factories in different industries are operating in the city, which became a good source of job opportunities and resulted in overall progress and development.
However, during the mid 20th century, there was a reconstruction of the heavy industry, which causes the city's mismanagement, dragging it to the great loss of earning opportunities. This event discourages more of the investors in the city because leaders have also started to practice corruption leading to economic and social decline.
The present days in Bridgeport is not that bad at all as the government like any suffering cities have exerted so much effort in revitalizing the economical aspect. In the 21st century, Bridgeport made its way towards the redevelopment of the whole structure aiming to regain the best years of the city's memories.
Watch our Videos
Forerunner Recycling Video Highlights
Who is Forerunner Recycling?
Business Electronic Recycling
FREE Computer Recycling for Companies
We attempt to remove the financial barrier to recycling computer equipment and recycling electronics. By extracting maximum resale value from the systems we recycle, we can offer free recycling services to most of our clients.