Free Commercial Computer Recycling
We make companies' computer recycling easy, environmentally safe and secure!

877-478-6611
YOUR COMPUTER RECYCLING AND E WASTE RECYCLING ANSWER
... with more than 15 years in the computer e waste recycling field, Forerunner Computer Recycling has given Baltimore, MD companies a responsible option to dispose end of life cycle and surplus computer equipment. All Baltimore, MD based companies face the task of safely disposing of older equipment and their e waste. The EPA estimates that as many as 500 million computers e waste will soon become obsolete.
As Baltimore, MD businesses upgrade existing PCs, more computers and other e waste are finding their way into the waste stream. According to the EPA, over two million tons of electronics waste is discarded each year and goes to U.S. landfills.
Now you have a partner in the computer e waste recycling business who understands your need to safely dispose of your computer and electronic equipment in an environmentally responsible manner.
By promoting reuse - computer recycling and electronic recycling - Forerunner Computer Recycling extends the life of computer equipment and reduce e waste. Recycle your computers, recycle your electronics.
Call Us Now To Easily Dispose and Recycle Your E Waste - Free!

877-478-6611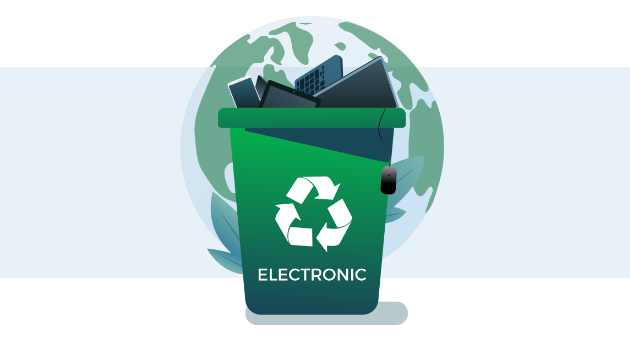 Destroy Your Data Securely
Today, more than ever, Baltimore, MD companies discarding computer equipment are concerned about identity theft, security compliance, and cyber criminals trying to obtain private information. Simply tossing used computer equipment and hard disks into dumpsters will leave companies vulnerable to unscrupulous individuals searching for credit card numbers, social security numbers, and other valuable data.
Forerunner Recycling, your partner in the computer e waste recycling business, understands the need to safely dispose of computer equipment in a manner that guarantees no data is available for exploitation.
Hard drives are erased using the Department of Defense's DoD 5220.22-M standard, or if necessary, hard drives are physically destroyed. We'll do whatever it takes to ensure your company data does not fall into the wrong hands.
Call For More Information

877-478-6611
Quick City Facts
Baltimore, MD
Form of Government
The Strong Mayor - Council Form
Size of City:
80.8 Square Miles
Yearly Precipitation:
41.94 inches (22.7 inches of snow)
Meaning of City Name:
George Calvert (Lord Baltimore)
Major Tourist Attraction:
Inner Harbor
Top Employers:
Social Security Administration,
Greater Baltimore Medical Center,
Centers for Medicare & Medicaid Services,
Erikson Retirement Community,
Franklin Square Hospital Center
Top Industries:
Services, Government, Wholesale & Retail Trade
Why Baltimore Has Become a Strong Tourist Destination
At first glance of the Baltimore City, you could witness the astounding architectural works of their huge buildings. Since it is the largest city in the state of Maryland, it is obvious that Baltimore is a progressive place. It is situated in the central area of the state. The popular landmark in recognizing the city is the tidal portion of the large Patapsco River.
Because of its topographical point located in the humid subtropical climate zone, four distinct seasons take place in the city where the summer tends to be very hot, making it one of the ideal places to visit during hot season. The wettest season is spring where there are a frequent number of rainy days. On the other hand, during the autumn season, the weather is warm and in winter, there is a sporadic occurrence of snowfall.
In terms of demographics, Baltimore City is a haven of six hundred thousand people where there is a mixture of different races and cultures. Black and White Americans are residing the area with a mix of American Indian and the African native inhabitants. Because of the diverse types of people living in the city, English is not the only language used in their medium of communication. Some speak Spanish; others can communicate using African languages, while there are also other people who use French and Chinese language.
The boost in the economic status of Baltimore has been brought by many business industries that are taking place in the area. Huge investors are engaged in steel business. Commercial enterprises engaging in the shipping and auto manufacturing also contribute to the increase in income of the whole city. One of the prides of Baltimore, Maryland is that they are the leading manufacturers of the rye whiskey and straw hats in the United States.
The fascinating history of the city has been highlighted in the Baltimore Vision Center, which millions of people around the world visit every year. The museums are also one of the city's attractions that are located near the neighboring countries. The 72 districts comprising the whole city are also the sources of diverse culture. The three downtown areas where you could shop all the way and try the high-class accommodations are just a few of the best experiences you can get from the contemporary world of Baltimore.
Since it is located on the shoreline of a huge river, the city was coined as "the city of boats", which makes the place more accessible to neighboring countries.
Watch our Videos
Forerunner Recycling Video Highlights
Who is Forerunner Recycling?
Business Electronic Recycling
FREE Computer Recycling for Companies
We attempt to remove the financial barrier to recycling computer equipment and recycling electronics. By extracting maximum resale value from the systems we recycle, we can offer free recycling services to most of our clients.