Free Commercial Computer Recycling
We make companies' computer recycling easy, environmentally safe and secure!

877-478-6611
YOUR COMPUTER RECYCLING AND E WASTE RECYCLING ANSWER
... with more than 15 years in the computer e waste recycling field, Forerunner Computer Recycling has given Aurora, IL companies a responsible option to dispose end of life cycle and surplus computer equipment. All Aurora, IL based companies face the task of safely disposing of older equipment and their e waste. The EPA estimates that as many as 500 million computers e waste will soon become obsolete.
As Aurora, IL businesses upgrade existing PCs, more computers and other e waste are finding their way into the waste stream. According to the EPA, over two million tons of electronics waste is discarded each year and goes to U.S. landfills.
Now you have a partner in the computer e waste recycling business who understands your need to safely dispose of your computer and electronic equipment in an environmentally responsible manner.
By promoting reuse - computer recycling and electronic recycling - Forerunner Computer Recycling extends the life of computer equipment and reduce e waste. Recycle your computers, recycle your electronics.
Call Us Now To Easily Dispose and Recycle Your E Waste - Free!

877-478-6611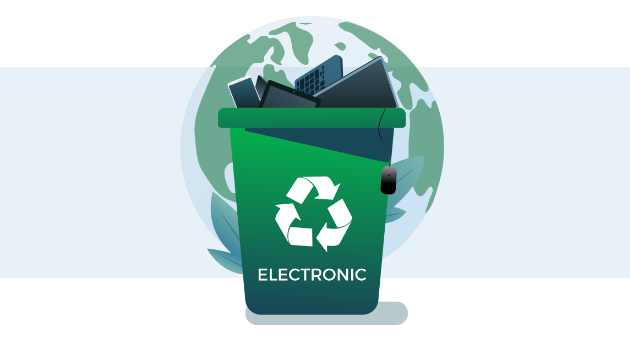 Destroy Your Data Securely
Today, more than ever, Aurora, IL companies discarding computer equipment are concerned about identity theft, security compliance, and cyber criminals trying to obtain private information. Simply tossing used computer equipment and hard disks into dumpsters will leave companies vulnerable to unscrupulous individuals searching for credit card numbers, social security numbers, and other valuable data.
Forerunner Recycling, your partner in the computer e waste recycling business, understands the need to safely dispose of computer equipment in a manner that guarantees no data is available for exploitation.
Hard drives are erased using the Department of Defense's DoD 5220.22-M standard, or if necessary, hard drives are physically destroyed. We'll do whatever it takes to ensure your company data does not fall into the wrong hands.
Call For More Information

877-478-6611
Quick City Facts
Aurora, IL
Form of Government
The Strong Mayor - Council Form
Size of City:
38.5 Square Miles
Yearly Precipitation:
38.4 inches
Meaning of City Name:
Named after Aurora, Cayuga County NY
Major Tourist Attraction:
Blackberry Farm's Pioneer Village
Top Employers:
Caterpillar Inc.,
Farmers Insurance Group,
Waubonsee Community College,
Aurora School District #129,
Aurora School District #131
Top Industries:
Manufacturing, Retail, Entertainment
The City of Aurora, Illinois
Aurora is the 2nd largest city in the Illinois state, just around thirty-five miles west of Chicago. Aurora is found to have much to offer when it comes to economical advantages, education, business trends, recreation, and a lot more to improve the quality of life. Residents can easily drive along the major cities of Chicago to work or to attend school.
Aurora IL is a home to around 199,932 residents and offers a wide range of architectural collections, a large collection of Sears Catalog Homes which is more than 50 homes, and Lustron all-steel homes of around seven homes. The city of Aurora is divided into three region, the west is in the west side of Fox River, the Far East side Fox Valley located from the County Line to the eastern border and the eastern bank and the Kane/DuPage County Line is where the East Side is located.
Aurora was known all throughout the world as the "City of Lights" because it was the first one to implement an all-electric street lighting system in the United States in 1881. Among the famous spots in Aurora are the Paramount Theatre, Leland Tower, Aurora Public Library, and the Waubonsee Community College, Aurora branch. It is also a home for the largest collection of the commercial buildings which were built by George Grant Elmslie. As you go around Aurora, you will notice that the place is situated with historic buildings and residences, thus crediting the great architectural masterpieces from the great architects.
Aurora has festivals and holidays. The Phillips Park Winter Fest is being held every February with dog sled rides, ice carving, ice skating, sledding, and many more. The spring also has its own festivities, which is not only about the festival of flowers but also about the myriad events in the Fox River Valley. Easter Egg Hunt is also held during the month of April in the Prisco Community Center, and the month of May parades the different tastes of Aurora from every restaurant. There are more festivities being held every month in the city of Aurora, and each one will surely keep the residents and its visitors entertained.
Aurora IL is also a place for great shopping and dining with its three major shopping centers located within the city. The Aurora Farmer's Market, which is open every Saturday morning, also offers different native and local produce to regular marketers. Savannah's is one notable restaurant catering to the people of Aurora, featuring Southern Cuisine and afternoon teas.
Watch our Videos
Forerunner Recycling Video Highlights
Who is Forerunner Recycling?
Business Electronic Recycling
FREE Computer Recycling for Companies
We attempt to remove the financial barrier to recycling computer equipment and recycling electronics. By extracting maximum resale value from the systems we recycle, we can offer free recycling services to most of our clients.