Free Commercial Computer Recycling
We make companies' computer recycling easy, environmentally safe and secure!

877-478-6611
YOUR COMPUTER RECYCLING AND E WASTE RECYCLING ANSWER
... with more than 15 years in the computer e waste recycling field, Forerunner Computer Recycling has given Augusta, GA companies a responsible option to dispose end of life cycle and surplus computer equipment. All Augusta, GA based companies face the task of safely disposing of older equipment and their e waste. The EPA estimates that as many as 500 million computers e waste will soon become obsolete.
As Augusta, GA businesses upgrade existing PCs, more computers and other e waste are finding their way into the waste stream. According to the EPA, over two million tons of electronics waste is discarded each year and goes to U.S. landfills.
Now you have a partner in the computer e waste recycling business who understands your need to safely dispose of your computer and electronic equipment in an environmentally responsible manner.
By promoting reuse - computer recycling and electronic recycling - Forerunner Computer Recycling extends the life of computer equipment and reduce e waste. Recycle your computers, recycle your electronics.
Call Us Now To Easily Dispose and Recycle Your E Waste - Free!

877-478-6611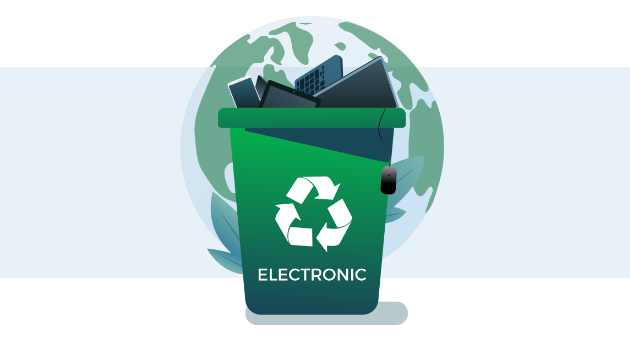 Destroy Your Data Securely
Today, more than ever, Augusta, GA companies discarding computer equipment are concerned about identity theft, security compliance, and cyber criminals trying to obtain private information. Simply tossing used computer equipment and hard disks into dumpsters will leave companies vulnerable to unscrupulous individuals searching for credit card numbers, social security numbers, and other valuable data.
Forerunner Recycling, your partner in the computer e waste recycling business, understands the need to safely dispose of computer equipment in a manner that guarantees no data is available for exploitation.
Hard drives are erased using the Department of Defense's DoD 5220.22-M standard, or if necessary, hard drives are physically destroyed. We'll do whatever it takes to ensure your company data does not fall into the wrong hands.
Call For More Information

877-478-6611
Quick City Facts
Augusta, GA
Form of Government
The Strong Mayor - Council Form
Size of City:
94.5 Square Miles
Yearly Precipitation:
44.58 inches
Meaning of City Name:
Augusta, Ga. Was
apparently named for Princess Augusta who lived under father and
ruler George Ii.
Major Tourist Attraction:
National Science Center's Fort Discovery
Top Employers:
Savannah River Site,
U.S. Army Signal Center & Ft. Gordon,
Medical College of Georgia,
Richmond County School System,
University Hospital
Top Industries:
Government, Health, Education
Explore the City of Augusta Richmond, Georgia
After the election held in 1995, the city of Augusta consolidated its government with the Richmond County, thus become a consolidated entity known as the Augusta-Richmond County or Augusta. With a total of 850.7 km² area, 98.66% or 839.3km² of it is land and 1.34% or 11.4km² is water, Augusta is a home to an estimated 200,587 residents.
The Richmond County, being consolidated with the Augusta City of Georgia, was organized in 1758 as the colonial parish of the St. Paul. During the Revolution, the parish became the Richmond County in honor of the Duke Richmond, the political icon behind the independence of the colonists' cause in Parliament. The Augusta that time was situated on a part of the Savannah River and was named after the wife of Prince Wales, Princess Augusta. It is the county seat of the Richmond County.
Augusta was the center for trading, but now it is the seat of the state government. It is very famous for its Augusta National Golf Club, which is a home of the PGA "The Masters", where major golf events and championships are being held each year.
Augusta is a town where President Woodrow Wilson spent his boyhood, and aside from that, there are a thousand more reasons why you would want to visit the city of Augusta. Among the best destinations in Augusta are the Sacred Heart Cultural Center, the Augusta Canal Interpretive Center at Enterprise Mill, Augusta Museum of History, Morris Museum of Art, Riverwalk, Meadow Garden, Savannah Rapids Visitor Center, Goshen Plantation Golf Club, and many more.
The neighborhood of historic homes in Augusta is a nice view to visit, and the Augusta State University campus in Summerville completes the historic sights, among other views within the city. Taking the outdoor fun in the city of Augusta should start from these historical sites, but it would be much fun if you will get the chance to experience the offers of the Central Savannah River Area, which is a home to dozens of parks, lakes, rivers, and canals where you can do boat adventure, kayak experience and more. The bicycle is also one of the best ways to become engaged with the nature, aside from walking.
Augusta also offers a wide range of delicious meals and savory dishes with many great hotels and restaurants catering to different foreign nationals as well. There are numerous family-friendly steak houses and food chains sprinkled all throughout the city where you can find creative menus and local brands of food and drinks to enjoy.
Watch our Videos
Forerunner Recycling Video Highlights
Who is Forerunner Recycling?
Business Electronic Recycling
FREE Computer Recycling for Companies
We attempt to remove the financial barrier to recycling computer equipment and recycling electronics. By extracting maximum resale value from the systems we recycle, we can offer free recycling services to most of our clients.