Free Commercial Computer Recycling
We make companies' computer recycling easy, environmentally safe and secure!

877-478-6611
YOUR COMPUTER RECYCLING AND E WASTE RECYCLING ANSWER
... with more than 15 years in the computer e waste recycling field, Forerunner Computer Recycling has given Athens Clarke County, GA companies a responsible option to dispose end of life cycle and surplus computer equipment. All Athens Clarke County, GA based companies face the task of safely disposing of older equipment and their e waste. The EPA estimates that as many as 500 million computers e waste will soon become obsolete.
As Athens Clarke County, GA businesses upgrade existing PCs, more computers and other e waste are finding their way into the waste stream. According to the EPA, over two million tons of electronics waste is discarded each year and goes to U.S. landfills.
Now you have a partner in the computer e waste recycling business who understands your need to safely dispose of your computer and electronic equipment in an environmentally responsible manner.
By promoting reuse - computer recycling and electronic recycling - Forerunner Computer Recycling extends the life of computer equipment and reduce e waste. Recycle your computers, recycle your electronics.
Call Us Now To Easily Dispose and Recycle Your E Waste - Free!

877-478-6611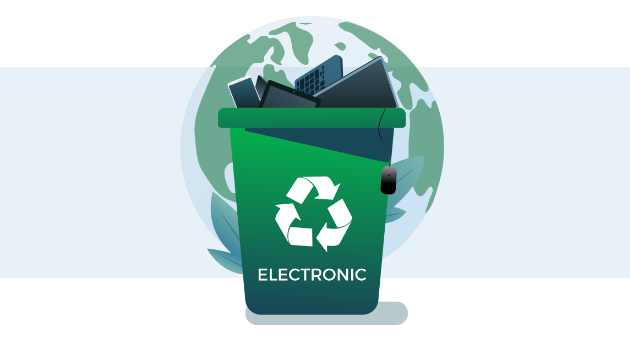 Destroy Your Data Securely
Today, more than ever, Athens Clarke County, GA companies discarding computer equipment are concerned about identity theft, security compliance, and cyber criminals trying to obtain private information. Simply tossing used computer equipment and hard disks into dumpsters will leave companies vulnerable to unscrupulous individuals searching for credit card numbers, social security numbers, and other valuable data.
Forerunner Recycling, your partner in the computer e waste recycling business, understands the need to safely dispose of computer equipment in a manner that guarantees no data is available for exploitation.
Hard drives are erased using the Department of Defense's DoD 5220.22-M standard, or if necessary, hard drives are physically destroyed. We'll do whatever it takes to ensure your company data does not fall into the wrong hands.
Call For More Information

877-478-6611
Quick City Facts
Athens Clarke County, GA
Form of Government
The Council - Manager Form
Size of City:
64.4 Square Miles
Yearly Precipitation:
49.74 inches
Meaning of City Name:
After Athens Greece
Major Tourist Attraction:
Georgia Museum of Art
Top Employers:
Athens First Bank and Trust Company,
Athens Regional Medical Center,
Athens/Clarke County Government,
Bank of America,
Bell South
Top Industries:
Finance, Health, Telecommunications
Athens-Clarke County: A City of Prosperity and Poverty
The Clarke County can be found in the state of Georgia. According to the 2010 census, the total population of the county reached 116, 14. The seat of government of Clarke County is Athens, which is described as a consolidated city-county. By definition, a consolidated city-county is the combination of the county and a city in a single unified jurisdiction. It has both the responsibilities and powers of the county, which is a state's administrative division, and a city, a municipal corporation. The Athens Clarke County is part of the Athens-Clarke County, Georgia Metropolitan Statistical Area, and also acts as its principal city. In addition, the Athens-Clarke County is the 6th largest city in the state of Georgia.
According to the poverty data, Clarke County is ranked as the 7th county with the highest poverty rate among 159 counties in the United States. It is a fact that the residents of Athens-Clarke County are among Georgia's poorest. However, they seem to be very healthy as compared to other impoverished people in other counties or cities, for that matter. Nationally, Athens is ranked 5th in terms of poverty rate.
It is indeed a paradox for a city so poor to be wealthy of health. In a recent study in 2013, Clarke County bagged the 14th spot among the best health rates in the state of Georgia. While the statistics hold the truth, the demographers and other researchers tried to rationalize the results in the hope of clarifying things. During their discussions, they came up with three possible explanations to support the findings about poverty and health.
The first explanation is that Athens-Clarke County is still a young city because 74% of its residents fall between the age of 19 and 64 years old. With only 8% of the population are in their retirement years (65 and above), the morbidity and mortality rate is low as compared to the rest of the cities and counties in Georgia. With a lower mortality and morbidity rate, only lesser people get sick; thus, the best health rate. The second explanation is the high number of educated people in the Athens-Clarke County. People with education tend to be smart in making healthy choices in life. The county has weird income and education ratios, since there are higher education levels despite the low income levels. The third explanation is that Athens-Clarke County is a promising medical hub. Its regional health centers appeal to commuters. Furthermore, free clinics are prevalent to service the uninsured.
Watch our Videos
Forerunner Recycling Video Highlights
Who is Forerunner Recycling?
Business Electronic Recycling
FREE Computer Recycling for Companies
We attempt to remove the financial barrier to recycling computer equipment and recycling electronics. By extracting maximum resale value from the systems we recycle, we can offer free recycling services to most of our clients.