Free Commercial Computer Recycling
We make companies' computer recycling easy, environmentally safe and secure!

877-478-6611
YOUR COMPUTER RECYCLING AND E WASTE RECYCLING ANSWER
... with more than 15 years in the computer e waste recycling field, Forerunner Computer Recycling has given Rochester, MN companies a responsible option to dispose end of life cycle and surplus computer equipment. All Rochester, MN based companies face the task of safely disposing of older equipment and their e waste. The EPA estimates that as many as 500 million computers e waste will soon become obsolete.
As Rochester, MN businesses upgrade existing PCs, more computers and other e waste are finding their way into the waste stream. According to the EPA, over two million tons of electronics waste is discarded each year and goes to U.S. landfills.
Now you have a partner in the computer e waste recycling business who understands your need to safely dispose of your computer and electronic equipment in an environmentally responsible manner.
By promoting reuse - computer recycling and electronic recycling - Forerunner Computer Recycling extends the life of computer equipment and reduce e waste. Recycle your computers, recycle your electronics.
Call Us Now To Easily Dispose and Recycle Your E Waste - Free!

877-478-6611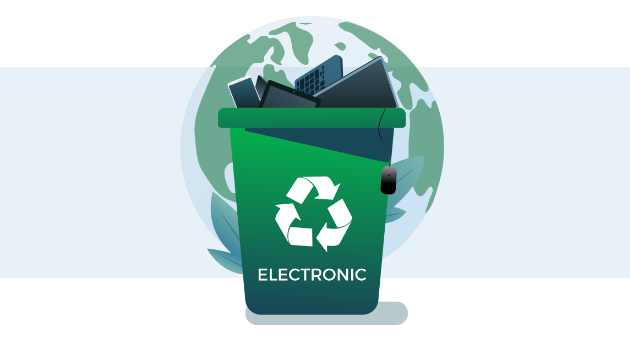 Destroy Your Data Securely
Today, more than ever, Rochester, MN companies discarding computer equipment are concerned about identity theft, security compliance, and cyber criminals trying to obtain private information. Simply tossing used computer equipment and hard disks into dumpsters will leave companies vulnerable to unscrupulous individuals searching for credit card numbers, social security numbers, and other valuable data.
Forerunner Recycling, your partner in the computer e waste recycling business, understands the need to safely dispose of computer equipment in a manner that guarantees no data is available for exploitation.
Hard drives are erased using the Department of Defense's DoD 5220.22-M standard, or if necessary, hard drives are physically destroyed. We'll do whatever it takes to ensure your company data does not fall into the wrong hands.
Call For More Information

877-478-6611
Quick City Facts
Rochester, MN
Form of Government
The Strong Mayor - Council Form
Size of City:
39.6 Square Miles
Yearly Precipitation:
31.40 inches
Meaning of City Name:
Originally from Rochester, New York, George Head had settled in Waukesha, Wisconsin before moving west to Minnesota. He named the village on the South Fork of the Zumbro River after his New York hometown, and built a log cabin his family operated as Head's Tavern.
Major Tourist Attraction:
Mayo Clinic Tour
Top Employers:
Mayo Clinic
International Business Machines (IBM),
Rochester School District 535,
Olmstead County,
Hyvee
Top Industries:
Health, Technology, Education
Rochester, MN – Experiencing Unique Opportunities for Art and Music
Rochester is a city in the state of Minnesota. This is also the county seat of the Olmsted County. The city's economy is promising as it grows and develops. Aside from the vital economic growth of the city, there are numerous entertainment and recreational opportunities that the city offers. The city offers numerous points of interests that both locals and tourists love.
Several buildings in the city are listed on the National Register of Historic Places. Some of these buildings include the former Chateau Theater, which houses the famed bookstore Barnes & Noble, and the Avalon Music, which is a historic hotel during the local civil rights movement. Another historic site in Rochester is its Art Center. This Art Center is located in downtown Rochester.
During the summer season, the city celebrates 'Thursdays on First.' Every Thursday, local artists and restaurant owners set up booths in the First Avenue in downtown Rochester. The booths show the different crafts of young and talented artists and restaurant owners. In addition, there are also several stages set up during the Thursday events. This is where local bands perform. The bands provide entertainment to the people during these events. However, Thursdays during the summer season are not the only days when you can experience music in the streets as there are always those street musicians providing entertainment while sitting on walls or while standing on the city's sidewalks.
Rochester is also home to the oldest cultural arts institution, the Rochester Symphony Orchestra and Chorale. This was founded in the year 1919. This was then a professional performing arts group named the Rochester Orchestra. The institution is connected with the founders of the Mayo Clinic. The founders recognized the need for vibrant cultural arts to entice the best physicians to live and work in Rochester. Today, the organization remains independent. It is committed to serving the different needs of the community through the provision of educational programs and high-grade performances.
Rochester also offers several parks and recreation opportunities for both the locals and the tourists. In fact, the city provides several varieties of leisure time for people to enjoy. The city features 3,500 acres of parkland. In addition, the city features 85 miles of paved trails that you can enjoy. The city houses more than 100 park areas with playground areas, a beach, pools, tennis court, picnic shelters, ball diamonds, soccer fields, dog parks and basketball courts.
Watch our Videos
Forerunner Recycling Video Highlights
Who is Forerunner Recycling?
Business Electronic Recycling
FREE Computer Recycling for Companies
We attempt to remove the financial barrier to recycling computer equipment and recycling electronics. By extracting maximum resale value from the systems we recycle, we can offer free recycling services to most of our clients.