Free Commercial Computer Recycling
We make companies' computer recycling easy, environmentally safe and secure!

877-478-6611
YOUR COMPUTER RECYCLING AND E WASTE RECYCLING ANSWER
... with more than 15 years in the computer e waste recycling field, Forerunner Computer Recycling has given Richmond, VA companies a responsible option to dispose end of life cycle and surplus computer equipment. All Richmond, VA based companies face the task of safely disposing of older equipment and their e waste. The EPA estimates that as many as 500 million computers e waste will soon become obsolete.
As Richmond, VA businesses upgrade existing PCs, more computers and other e waste are finding their way into the waste stream. According to the EPA, over two million tons of electronics waste is discarded each year and goes to U.S. landfills.
Now you have a partner in the computer e waste recycling business who understands your need to safely dispose of your computer and electronic equipment in an environmentally responsible manner.
By promoting reuse - computer recycling and electronic recycling - Forerunner Computer Recycling extends the life of computer equipment and reduce e waste. Recycle your computers, recycle your electronics.
Call Us Now To Easily Dispose and Recycle Your E Waste - Free!

877-478-6611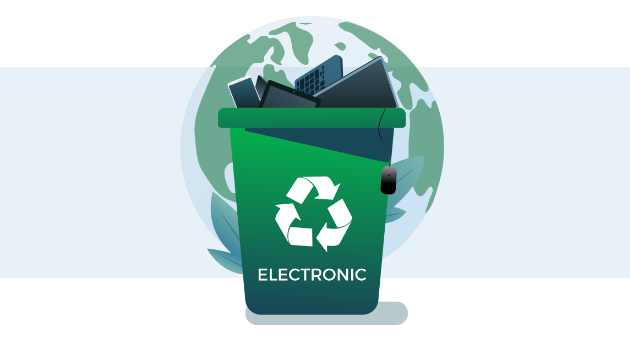 Destroy Your Data Securely
Today, more than ever, Richmond, VA companies discarding computer equipment are concerned about identity theft, security compliance, and cyber criminals trying to obtain private information. Simply tossing used computer equipment and hard disks into dumpsters will leave companies vulnerable to unscrupulous individuals searching for credit card numbers, social security numbers, and other valuable data.
Forerunner Recycling, your partner in the computer e waste recycling business, understands the need to safely dispose of computer equipment in a manner that guarantees no data is available for exploitation.
Hard drives are erased using the Department of Defense's DoD 5220.22-M standard, or if necessary, hard drives are physically destroyed. We'll do whatever it takes to ensure your company data does not fall into the wrong hands.
Call For More Information

877-478-6611
Quick City Facts
Richmond, VA
Form of Government
The Strong Mayor - Council Form
Size of City:
62.55 Square Miles
Yearly Precipitation:
43.13 inches of rainfall; 16.9 inches of snowfall
Elevation
Ranges from 9 to approximately 312 Feet
Meaning of City Name:
Named the city Richmond after the English town of Richmond near (and now part of) London, because the view of the James River was strikingly similar to the view of the River Thames from Richmond Hill in England
Major Tourist Attraction:
Richmond National Battlefield Park
Top Employers:
Capital One Financial Corp,
Philip Morris,
HCA Inc,
Virginia Commonwealth University Health,
Wal-Mart Stores, Inc.
Top Industries:
Government, Education, Health & Social Services
The Economically Progressive Richmond, VA
Richmond is an economically progressive city. This city is also the capital of Virginia. This city offers a wealth of amenities, which are not easily found in other municipalities and cities in the East Coast. Richmond displays beautiful neighborhoods with exceptional architectural styles and structures, numerous cultural and educational heritage sites, and historic prestige that can be traced back to the earliest English settlers in the area.
Richmond is also nationally recognized for embracing new economic concepts and economic vitality. The city has diversified its employment based from several manufacturing interests like food, chemical, tobacco, semiconductors, biotechnology, and high tech fibers. Richmond has ranked as one of the top places to work and live in the country.
Richmond offers a flourishing community rich in culture and heritage. This aspect of the city is enhanced by the numerous excellent and world-class museums as well as prominent universities found within the city. Museums are abundant in the city. One of the famous ones includes the Virginia Historical Society, Virginia Museum of Fine Arts, Children's Museum of Richmond, and the Science Museum of Virginia. Richmond is also home to the Virginia Center for Architecture, Library of Virginia, Old Dominion Railway Museum, Valentine Richmond History Center, and the Virginia Holocaust Museum. In addition, the city also has its own symphony, opera, professional ballet, art galleries and theater companies. If you are a history and arts buff, Richmond is the perfect place for you. Opera and ballet lovers will also enjoy what the city has to offer.
Aside from the entertainment offered by Richmond in terms of arts and history, the city also offers easy access for you to enjoy nature at its finest. The city has easy access to the mountains and oceans where you can enjoy fun filled activities with your family. In fact, Richmond is home to one of the largest river park systems in the country. It also has a treasure trove of historic sites and landmarks like the Lee Monument located on Monument Avenue. Trendy boutiques and exquisite restaurants are also accessible in Richmond.
The city of Richmond is definitely packed with great sites to visit and entertainment opportunities to enjoy. In addition, its economy is also flourishing drawing in more and more investors in the city. With the economic growth and the development of the tourism industry in Richmond, locals and tourists alike can benefit from visiting and staying in Richmond.
Watch our Videos
Forerunner Recycling Video Highlights
Who is Forerunner Recycling?
Business Electronic Recycling
FREE Computer Recycling for Companies
We attempt to remove the financial barrier to recycling computer equipment and recycling electronics. By extracting maximum resale value from the systems we recycle, we can offer free recycling services to most of our clients.