Free Commercial Computer Recycling
We make companies' computer recycling easy, environmentally safe and secure!

877-478-6611
YOUR COMPUTER RECYCLING AND E WASTE RECYCLING ANSWER
... with more than 15 years in the computer e waste recycling field, Forerunner Computer Recycling has given Houston, TX companies a responsible option to dispose end of life cycle and surplus computer equipment. All Houston, TX based companies face the task of safely disposing of older equipment and their e waste. The EPA estimates that as many as 500 million computers e waste will soon become obsolete.
As Houston, TX businesses upgrade existing PCs, more computers and other e waste are finding their way into the waste stream. According to the EPA, over two million tons of electronics waste is discarded each year and goes to U.S. landfills.
Now you have a partner in the computer e waste recycling business who understands your need to safely dispose of your computer and electronic equipment in an environmentally responsible manner.
By promoting reuse - computer recycling and electronic recycling - Forerunner Computer Recycling extends the life of computer equipment and reduce e waste. Recycle your computers, recycle your electronics.
Call Us Now To Easily Dispose and Recycle Your E Waste - Free!

877-478-6611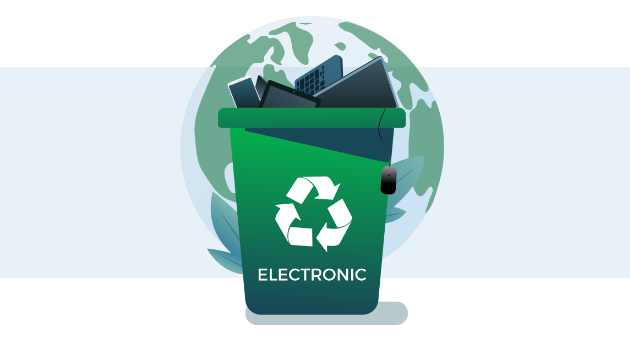 Destroy Your Data Securely
Today, more than ever, Houston, TX companies discarding computer equipment are concerned about identity theft, security compliance, and cyber criminals trying to obtain private information. Simply tossing used computer equipment and hard disks into dumpsters will leave companies vulnerable to unscrupulous individuals searching for credit card numbers, social security numbers, and other valuable data.
Forerunner Recycling, your partner in the computer e waste recycling business, understands the need to safely dispose of computer equipment in a manner that guarantees no data is available for exploitation.
Hard drives are erased using the Department of Defense's DoD 5220.22-M standard, or if necessary, hard drives are physically destroyed. We'll do whatever it takes to ensure your company data does not fall into the wrong hands.
Call For More Information

877-478-6611
Quick City Facts
Houston, TX
Form of Government
The Strong Mayor - Council Form
Size of City:
601.69 Square Miles
Yearly Precipitation:
47.84 inches
Meaning of City Name:
After Sam Houston
Major Tourist Attraction:
Space Center Houston Nasa
Top Employers:
Shell Oil Co.,
Harris County,
Exxon Mobil Corp.,
City of Houston,
JPMorgan Chase
Top Industries:
Energy, Chemical, Space
Houston: A Sensational Place to Satisfy the Stomach
The city of Houston is located in the state of Texas. As recorded by the 2010 U.S. census, Houston has a total population of 2.1 million, making it the largest city in the Texas and the 4th largest city in the country. The city is also the seat of government of the Harris County, and extends to the Montgomery and Fort Bend counties. The metropolitan area has a total of 6 million inhabitants, which makes it as the 5th largest area in the United States. Geographically, a large part of the city of Houston is near the gulf coastal plain.
One of the interesting facts about Houston is that it is considered as a haven for local and foreign foodies. In a research study about food consumption, an average Houstonian eats 4.2 more times than any American living in other cities. This could be attributed to the fact that a single meal in Houston does not cost as much as the national average price, which is said to be at $33.67. With the low cost of food, Houstonians are sure to be taking advantage of food consumption.
However, money is not the only factor that could justify the Houstonians deed love for food. The city of Houston was brought to the gastronomic spotlight because of the title it was given by a trusted organization that focuses on American Travel and Lifestyle. In 2007, Forbes Traveler named Houston as one of America's best restaurant cities. The information they discovered clarified that Houston is home to 8,000 restaurants and 600 night clubs that offer gastronomic delights, from fast food to fine dining, up to this date. Locals and tourists will surely enjoy the wide range of cuisines available in the city any time of the day.
Houston is definitely a food authority if the basis for such title is the number of cuisines present in the city. The online food archive, Urban Spoon, proved that Houston is capable of satisfying the local as well as the international palate. One could expect an assorted collection of cuisines in the city, such as Indian, French, Filipino, Irish, Turkish, Greek, Japanese, Ethiopian, Chinese, Vietnamese, Asian, Venezuelan, African, Portuguese, Brazilian, Pakistani, Italian, Spanish and Moroccan among others. The ingredients used by most restaurants are usually locally-grown to support the city's agriculture and poultry industry. No matter what food you are looking for, Houston can truly provide satisfaction and a full stomach.
Watch our Videos
Forerunner Recycling Video Highlights
Who is Forerunner Recycling?
Business Electronic Recycling
FREE Computer Recycling for Companies
We attempt to remove the financial barrier to recycling computer equipment and recycling electronics. By extracting maximum resale value from the systems we recycle, we can offer free recycling services to most of our clients.