Free Commercial Computer Recycling
We make companies' computer recycling easy, environmentally safe and secure!

877-478-6611
YOUR COMPUTER RECYCLING AND E WASTE RECYCLING ANSWER
... with more than 15 years in the computer e waste recycling field, Forerunner Computer Recycling has given Erie, PA companies a responsible option to dispose end of life cycle and surplus computer equipment. All Erie, PA based companies face the task of safely disposing of older equipment and their e waste. The EPA estimates that as many as 500 million computers e waste will soon become obsolete.
As Erie, PA businesses upgrade existing PCs, more computers and other e waste are finding their way into the waste stream. According to the EPA, over two million tons of electronics waste is discarded each year and goes to U.S. landfills.
Now you have a partner in the computer e waste recycling business who understands your need to safely dispose of your computer and electronic equipment in an environmentally responsible manner.
By promoting reuse - computer recycling and electronic recycling - Forerunner Computer Recycling extends the life of computer equipment and reduce e waste. Recycle your computers, recycle your electronics.
Call Us Now To Easily Dispose and Recycle Your E Waste - Free!

877-478-6611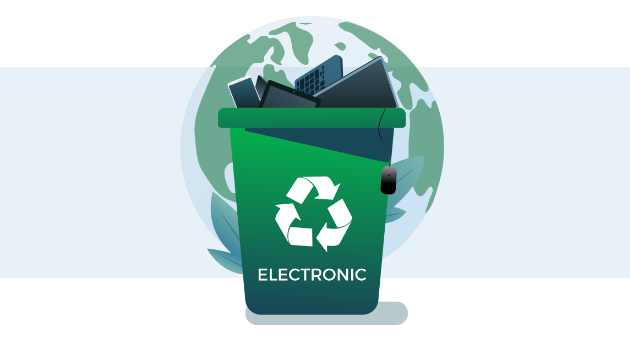 Destroy Your Data Securely
Today, more than ever, Erie, PA companies discarding computer equipment are concerned about identity theft, security compliance, and cyber criminals trying to obtain private information. Simply tossing used computer equipment and hard disks into dumpsters will leave companies vulnerable to unscrupulous individuals searching for credit card numbers, social security numbers, and other valuable data.
Forerunner Recycling, your partner in the computer e waste recycling business, understands the need to safely dispose of computer equipment in a manner that guarantees no data is available for exploitation.
Hard drives are erased using the Department of Defense's DoD 5220.22-M standard, or if necessary, hard drives are physically destroyed. We'll do whatever it takes to ensure your company data does not fall into the wrong hands.
Call For More Information

877-478-6611
Quick City Facts
Erie, PA
Form of Government
The Strong Mayor - Council Form
Size of City:
22 Square Miles
Yearly Precipitation:
38.1 inches of rain; 77.9 inches of snow
Meaning of City Name:
Erie was named after the Eriez tribe, which was destroyed by a combination of pestilence and the Seneca nation under Chief Cornplanter in the mid-seventeenth century
Major Tourist Attraction:
Waldameer Park & Water World
Top Employers:
Catholic Diocese Of Erie,
Erie Indemnity Company,
Rent-Way, Inc,
The Hamot Medical Center Of The City Of Erie Pennsylvania,
Saint Vincent Health System
Top Industries:
Manufacturing, Services, Retail Trade
Recreational Activities in the City of Erie
The city of Erie is located in the U.S. state of Pennsylvania. It is considered as the 4th largest city in the state, coming after Allentown. It is also the county seat of Erie County. Situated on the northwestern side of the state, Erie is near various cities, such as Buffalo in New York, Pittsburgh in Pennsylvania and Cleveland in Ohio. It is also located near the Lake Erie's south-central shores. The city of Erie has 28 square miles, with 22 square miles of land and the rest is water. The city is also connected to a peninsula called Presque Isle State Park, which sticks out on the Lake Erie. In terms of population, the city of Erie ranks the 285th most populous city in the United States. According to the U.S. Census, the estimated population of the city is 101, 047 as of 2012. In addition, the city is considered as the Erie- PA Metropolitan Statistical Area's principal city. The MSA has an estimated population of 280, 646 residents as of 2012, ranking as the 164th highest MSA in the country.
Millions of people make a trip to Erie to experience a long list of recreational activities that are not experienced anywhere else. The city's location is convenient during the summer when families yearn to bask under the sun or soak in the sparkling blue waters. The Lake Erie is indeed an ideal location for water sports and nature sightseeing. Some of the largest attractions in the city are the Presque Isle State Park, National Natural Landmark Seaway Trail and Tom Ridge Environmental center.
Sitting on a 3, 112 acre of the sandy peninsula, Presque Isle State Park is recognized as one of the best state parks in Pennsylvania. It features recreational trails, beaches and a marina for activities such as bird watching and boating. Apart from the activities, the panoramic view of the ocean as well as the existence of several lighthouses brings the seaside charm to a whole new level. There are also ecological zones within the park, which boast of diverse, flora and fauna. The Tom Ridge Environmental Center is also found in the heart of the state park. It has an observation tower, visitors' center, large-format movie theatre and interpretive exhibits that showcase regional and local fauna and flora.
The National Natural Landmark Seaway Trail is part of the NNL (National Natural Landmarks) program. The program highlights the best examples of geological and biological features of natural areas that may be public or private property.
Watch our Videos
Forerunner Recycling Video Highlights
Who is Forerunner Recycling?
Business Electronic Recycling
FREE Computer Recycling for Companies
We attempt to remove the financial barrier to recycling computer equipment and recycling electronics. By extracting maximum resale value from the systems we recycle, we can offer free recycling services to most of our clients.