Free Commercial Computer Recycling
We make companies' computer recycling easy, environmentally safe and secure!

877-478-6611
YOUR COMPUTER RECYCLING AND E WASTE RECYCLING ANSWER
... with more than 15 years in the computer e waste recycling field, Forerunner Computer Recycling has given Daly City, CA companies a responsible option to dispose end of life cycle and surplus computer equipment. All Daly City, CA based companies face the task of safely disposing of older equipment and their e waste. The EPA estimates that as many as 500 million computers e waste will soon become obsolete.
As Daly City, CA businesses upgrade existing PCs, more computers and other e waste are finding their way into the waste stream. According to the EPA, over two million tons of electronics waste is discarded each year and goes to U.S. landfills.
Now you have a partner in the computer e waste recycling business who understands your need to safely dispose of your computer and electronic equipment in an environmentally responsible manner.
By promoting reuse - computer recycling and electronic recycling - Forerunner Computer Recycling extends the life of computer equipment and reduce e waste. Recycle your computers, recycle your electronics.
Call Us Now To Easily Dispose and Recycle Your E Waste - Free!

877-478-6611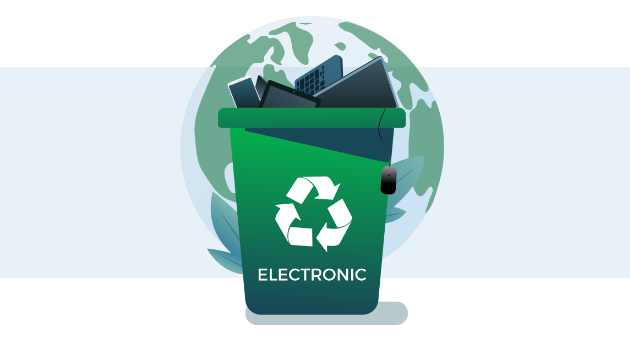 Destroy Your Data Securely
Today, more than ever, Daly City, CA companies discarding computer equipment are concerned about identity theft, security compliance, and cyber criminals trying to obtain private information. Simply tossing used computer equipment and hard disks into dumpsters will leave companies vulnerable to unscrupulous individuals searching for credit card numbers, social security numbers, and other valuable data.
Forerunner Recycling, your partner in the computer e waste recycling business, understands the need to safely dispose of computer equipment in a manner that guarantees no data is available for exploitation.
Hard drives are erased using the Department of Defense's DoD 5220.22-M standard, or if necessary, hard drives are physically destroyed. We'll do whatever it takes to ensure your company data does not fall into the wrong hands.
Call For More Information

877-478-6611
Quick City Facts
Daly City, CA
Form of Government
The Council - Manager Form
Size of City:
7.56 Square Miles
Yearly Precipitation:
19.77 inches
Meaning of City Name:
founder businessman John Daly
Major Tourist Attraction:
Daly City Parks and Recreation Department
Top Employers:
Seton Medical Center,
Jefferson School District,
City of Daly City,
Target @ Serramonte,
U.S. Postal Service
Top Industries:
Health, Education, Government
Daly City: The History of the Peninsula's Gateway
The Daly City is located in the state of California. It is considered to be the largest city in the entire county of San Mateo County. Geographically, it lies in the southern region of San Francisco. Different cities of California serve as the borders of Daly City. Cities such as Brisbane, South San Francisco, Pacifica and San Francisco surround the Daly City. Daly City also functions as a border to other unincorporated places in San Mateo County, such as San Bruno Mountain State Park, Olympic Club and other near Colma. According to United States Census Bureau, Daly City has an estimated population of 101, 123 as of 2010. Daly City ranks 1st most populous city in the San Mateo County. In terms of population, Daly City ranks the 6th most populous in the California State and 273rd most populous in the whole country. The city was incorporated in 1911, and was given the name of the original land owner, John Daly.
The famous nickname of Daly City is "Gateway to the Peninsula". It is because of the fact that the area of the city extends between the San Francisco Bay and the Pacific Ocean on the west. The land area of Daly City is formerly Spanish land which had been unoccupied for a good number of years. In 1769, Gaspar de Portola led his exploration party near the bay and established a military post which was called Presidio. The city of San Francisco was then discovered at the center of the bay. While San Francisco is growing to be a prosperous city, nothing much happened on the outside of its borders. This might be influenced by the outside soil, which is not good for crop plantings. Only when the California Gold Rush opened that the open spaces near San Bruno Mountain were explored with interest.
For those who did not succeed in the Gold Rush, they settled in the area instead and tried their luck in opening small businesses. Further down, towns were started, as well as farming and ranching businesses. One of the workers in the farm is John Daly, who crossed the Atlantic at the age of 13. He started on a dairy farm and married the boss's daughter. Daly rose into prominence and built his own ranch. He also moved to San Francisco with his family and built another ranch there, but he soon realized that his ranch outside San Francisco could be used for living, than grazing cattle. In 1907, his huge property became subdivided and incorporated into a city. Once the water system was established, and the roads were paved, the inhabitants called it Daly City in honor of the kind businessmen who accommodated the surge of refugees after the devastating earthquake in 1906.
Watch our Videos
Forerunner Recycling Video Highlights
Who is Forerunner Recycling?
Business Electronic Recycling
FREE Computer Recycling for Companies
We attempt to remove the financial barrier to recycling computer equipment and recycling electronics. By extracting maximum resale value from the systems we recycle, we can offer free recycling services to most of our clients.