Free Commercial Computer Recycling
We make companies' computer recycling easy, environmentally safe and secure!

877-478-6611
YOUR COMPUTER RECYCLING AND E WASTE RECYCLING ANSWER
... with more than 15 years in the computer e waste recycling field, Forerunner Computer Recycling has given Coral Springs, FL companies a responsible option to dispose end of life cycle and surplus computer equipment. All Coral Springs, FL based companies face the task of safely disposing of older equipment and their e waste. The EPA estimates that as many as 500 million computers e waste will soon become obsolete.
As Coral Springs, FL businesses upgrade existing PCs, more computers and other e waste are finding their way into the waste stream. According to the EPA, over two million tons of electronics waste is discarded each year and goes to U.S. landfills.
Now you have a partner in the computer e waste recycling business who understands your need to safely dispose of your computer and electronic equipment in an environmentally responsible manner.
By promoting reuse - computer recycling and electronic recycling - Forerunner Computer Recycling extends the life of computer equipment and reduce e waste. Recycle your computers, recycle your electronics.
Call Us Now To Easily Dispose and Recycle Your E Waste - Free!

877-478-6611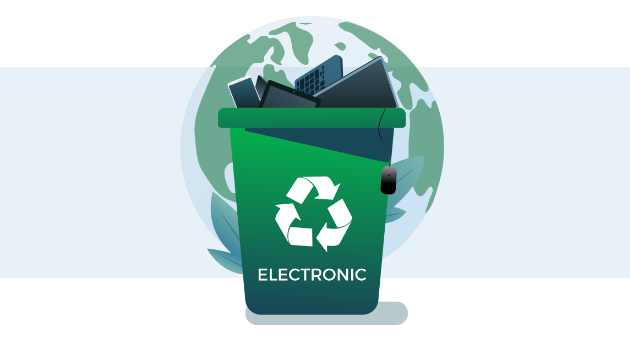 Destroy Your Data Securely
Today, more than ever, Coral Springs, FL companies discarding computer equipment are concerned about identity theft, security compliance, and cyber criminals trying to obtain private information. Simply tossing used computer equipment and hard disks into dumpsters will leave companies vulnerable to unscrupulous individuals searching for credit card numbers, social security numbers, and other valuable data.
Forerunner Recycling, your partner in the computer e waste recycling business, understands the need to safely dispose of computer equipment in a manner that guarantees no data is available for exploitation.
Hard drives are erased using the Department of Defense's DoD 5220.22-M standard, or if necessary, hard drives are physically destroyed. We'll do whatever it takes to ensure your company data does not fall into the wrong hands.
Call For More Information

877-478-6611
Quick City Facts
Coral Springs, FL
Form of Government
The Council - Manager Form
Size of City:
23.9 Square Miles
Yearly Precipitation:
57.27 inches
Meaning of City Name:
After Developer, Coral Ridge Properties
Major Tourist Attraction:
Coral Springs Museum of Art
Top Employers:
Broward Health,
Delray Medical Center (A Tenet Healthcare Facility),
Kaplan Higher Education
Top Industries:
Educational, Health, Retail Trade
Coral Springs: The Sports Pride of the City
In the Broward County in the Florida state, the city of Coral Springs is located. Geographically, Coral Springs is on the northwestern side of the city of Fort Lauderdale. It is bordered by the different cities, such as Coconut Creek on the east, Tamarac in the south, North Lauderdale and Margate in the southeast and Parkland in the north. The Everglades, which is a region of wetlands in the state of Florida, can be found on the west of the city of Coral Springs. Despite the name, the city of Coral Springs does not have any spring within its city borders.
According to the United States Census Bureau, the city has an estimated population of 121, 096 as of 2010. In addition, Coral Springs is part of the Metropolitan Statistical Area which consists of Fort Lauderdale, Miami and Pompano Beach. In 2010, the population of the said MSA reached 5, 564, 635.
Coral Springs is home to a long list of athletes who are famous in a national or global level. Some of them are Stephen Herdsman (Major League soccer player), Anthony Rizzo (Major League Baseball Player- Chicago Cubs) and Nate Weiss (Latvian Higher League soccer player) among others. National Football League players including Sam Young, Dan Morgan, Cody Brown, Todd Weiner, Steve Hutchinson and Darius Butler are also from the humble city of Coral Springs. Another notable figure who was born in the city was Lexi Thompson, who was named the youngest winner of the Ladies Professional Golf Association or the so-called LPGA tour event at the tender age of 16. Thompson is now a pro golfer and started bagging awards from worldwide golf events, such as the Dubai Ladies Master and the Ladies European Tour. In the year 2009, Thompson is ranked No. 9 in the Women's World Golf Rankings.
Olympic medalists are also living and training in Coral Springs. Some were participants of the 2008 Olympic Games in Beijing, China, such as Dara Torres (swimming silver medalist), Walter Dix (track and field bronze medalist) and Misty May-Treanor (beach volleyball gold medalist).
Although the city of Coral Springs has its fair share of names in the sports arena, the city does not have professional sports teams. Instead, they support amateur sports leagues, such as the Coral Springs Youth Soccer League. The soccer league consists of 3,300 and more players, which was then separated by age group and sex. The Sportsplex in the city is also an ideal training ground for professional teams, such as the Florida's Panthers.
Watch our Videos
Forerunner Recycling Video Highlights
Who is Forerunner Recycling?
Business Electronic Recycling
FREE Computer Recycling for Companies
We attempt to remove the financial barrier to recycling computer equipment and recycling electronics. By extracting maximum resale value from the systems we recycle, we can offer free recycling services to most of our clients.