Free Commercial Computer Recycling
We make companies' computer recycling easy, environmentally safe and secure!

877-478-6611
YOUR COMPUTER RECYCLING AND E WASTE RECYCLING ANSWER
... with more than 15 years in the computer e waste recycling field, Forerunner Computer Recycling has given Clearwater, FL companies a responsible option to dispose end of life cycle and surplus computer equipment. All Clearwater, FL based companies face the task of safely disposing of older equipment and their e waste. The EPA estimates that as many as 500 million computers e waste will soon become obsolete.
As Clearwater, FL businesses upgrade existing PCs, more computers and other e waste are finding their way into the waste stream. According to the EPA, over two million tons of electronics waste is discarded each year and goes to U.S. landfills.
Now you have a partner in the computer e waste recycling business who understands your need to safely dispose of your computer and electronic equipment in an environmentally responsible manner.
By promoting reuse - computer recycling and electronic recycling - Forerunner Computer Recycling extends the life of computer equipment and reduce e waste. Recycle your computers, recycle your electronics.
Call Us Now To Easily Dispose and Recycle Your E Waste - Free!

877-478-6611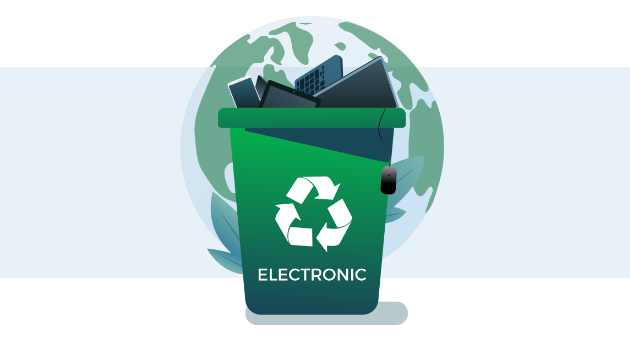 Destroy Your Data Securely
Today, more than ever, Clearwater, FL companies discarding computer equipment are concerned about identity theft, security compliance, and cyber criminals trying to obtain private information. Simply tossing used computer equipment and hard disks into dumpsters will leave companies vulnerable to unscrupulous individuals searching for credit card numbers, social security numbers, and other valuable data.
Forerunner Recycling, your partner in the computer e waste recycling business, understands the need to safely dispose of computer equipment in a manner that guarantees no data is available for exploitation.
Hard drives are erased using the Department of Defense's DoD 5220.22-M standard, or if necessary, hard drives are physically destroyed. We'll do whatever it takes to ensure your company data does not fall into the wrong hands.
Call For More Information

877-478-6611
Quick City Facts
Clearwater, FL
Form of Government
The Council - Manager Form
Size of City:
25.3 Square Miles
Yearly Precipitation:
52.42 inches
Meaning of City Name:
Prior to 1906, the area was known as Clear Water Harbor. The name
Major Tourist Attraction:
The Gulf Coast
Top Employers:
BayCare Health System,
Blockbuster,
University Community Hospital,
U.S. Army Medical Corps
Top Industries:
Tourism, Health, Government
Coastal Vacations in the City of Clearwater
The city of Clearwater can be found in the sunshine state of Florida. Geographically, Clearwater is situated on the northwest part of St. Petersburg and west of Tampa. The west of the city leads to the Mexico Gulf, while Tampa Bay lies to its east. The city of Clearwater is divided from the Clearwater Beach by the Intracoastal Waterway, which is a waterway from the Gulf coasts and the Atlantic Ocean. Clearwater is the seat of government of Pinellas County. It is also included in the small Tampa- St. Petersburg- Clearwater Metropolitan Area. The Tampa- St. Petersburg- Clearwater Metropolitan Area is commonly known as the Area of Tampa Bay. According to the United States Census Bureau, the city of Clearwater has an estimated population of 107, 685 as of the year 2010.
Although the cities in Florida boast a list of magnificent beaches, it is the beaches of Clearwater that are constantly chosen to be included among America's most beautiful ones. American locals and foreign tourists will enjoy the city's serene Gulf breeze, crystal blue waters and miles of white sand that offer both adventure and peace. The city is indeed an ideal location for travelers of varying interests. Whether they visit the city for leisure or business, they will leave the city with their expectations exceeded.
Clearwater is very accessible because of the two airports that are servicing the city. The St. Petersburg/ Clearwater International Airport is just 11 miles from the beach, and it is continually expanding to accommodate the influx of tourists the whole year round. Tampa International is also nearby, which is considered to be a top airport choice among Americans. The city can also be reached by car through the Gulf to Bay Boulevard or the Courtney Campbell Causeway. Families or group travelers will enjoy the scenic view of the drive to one of the country's ideal coastal vacation spots.
When it comes to accommodation and dining, Clearwater is well-equipped with the right establishments to keep locals and tourists entertained. The city offers a wide range of dining options, from outside grills to fine dining venues. The Clearwater cuisine is also a must-try since it offers an authentic beachside experience. Accommodations can also range from luxury hotels to value-for-money lodging. The calendar of events in Clearwater is packed the whole year round with outdoor activities, music festivals, sports contests and bazaars.
Watch our Videos
Forerunner Recycling Video Highlights
Who is Forerunner Recycling?
Business Electronic Recycling
FREE Computer Recycling for Companies
We attempt to remove the financial barrier to recycling computer equipment and recycling electronics. By extracting maximum resale value from the systems we recycle, we can offer free recycling services to most of our clients.