Free Commercial Computer Recycling
We make companies' computer recycling easy, environmentally safe and secure!

877-478-6611
YOUR COMPUTER RECYCLING AND E WASTE RECYCLING ANSWER
... with more than 15 years in the computer e waste recycling field, Forerunner Computer Recycling has given Charlotte, NC companies a responsible option to dispose end of life cycle and surplus computer equipment. All Charlotte, NC based companies face the task of safely disposing of older equipment and their e waste. The EPA estimates that as many as 500 million computers e waste will soon become obsolete.
As Charlotte, NC businesses upgrade existing PCs, more computers and other e waste are finding their way into the waste stream. According to the EPA, over two million tons of electronics waste is discarded each year and goes to U.S. landfills.
Now you have a partner in the computer e waste recycling business who understands your need to safely dispose of your computer and electronic equipment in an environmentally responsible manner.
By promoting reuse - computer recycling and electronic recycling - Forerunner Computer Recycling extends the life of computer equipment and reduce e waste. Recycle your computers, recycle your electronics.
Call Us Now To Easily Dispose and Recycle Your E Waste - Free!

877-478-6611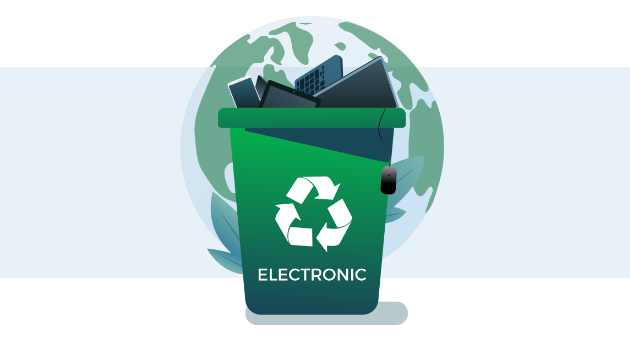 Destroy Your Data Securely
Today, more than ever, Charlotte, NC companies discarding computer equipment are concerned about identity theft, security compliance, and cyber criminals trying to obtain private information. Simply tossing used computer equipment and hard disks into dumpsters will leave companies vulnerable to unscrupulous individuals searching for credit card numbers, social security numbers, and other valuable data.
Forerunner Recycling, your partner in the computer e waste recycling business, understands the need to safely dispose of computer equipment in a manner that guarantees no data is available for exploitation.
Hard drives are erased using the Department of Defense's DoD 5220.22-M standard, or if necessary, hard drives are physically destroyed. We'll do whatever it takes to ensure your company data does not fall into the wrong hands.
Call For More Information

877-478-6611
Quick City Facts
Charlotte, NC
Form of Government
The Council - Manager Form
Size of City:
242.87 Square Miles
Yearly Precipitation:
43.1 inches
Meaning of City Name:
Charlotte, after the King George III's wife
Major Tourist Attraction:
Paramount's Carowinds
Top Employers:
Carolinas Healthcare System,
Wells Fargo/Wachovia Corp,
Charlotte-Mecklenburg Schools,
Bank Of America,
Wal-Mart Stores Inc
Top Industries:
Wholesale & Retail Trade, Services, Manufacturing
The Cycling Life in Charlotte
The city of Charlotte can be located in the state of North Carolina. It is the state's largest city, as well as the seat of government of Mecklenburg County. Geographically, the city of Charlotte covers most of Mecklenburg County. It is located on the extraction sites of the Rudisill and St. Catherine's gold mines, just atop the rise between the two creeks, namely: Irwin Creek and Sugar Creek. There is no significant body of water near the city, although the Catawba River lies far east, and Lake Norman, North Carolina's largest man-made lake, can be found southeast of the city. According to the 2012 United States Census Bureau, Charlotte has a population of 775, 202, which justifies its rank as the 17th largest city in the country. The Charlotte Metropolitan Area is included in a 16-country market region with a population of 2,442,564 as of 2011. In 2012, the Charlotte MSA alone has a population of 2, 296, 569, making it the 23rd largest metropolitan area in the country.
In America, pollution is indeed one of the major issues that needed to be addressed. As reported by the World Health Organization or WHO, transportation that burn fossil fuels and other biodegradable materials is the top cause of air pollution in the United States. Air pollution causes smog, which triggers non-allergic respiratory conditions, such as cardiopulmonary diseases. In order to increase the safety of citizens, city governments in the country are urged to develop sustainable practices in the hope of eliminating overall pollution, not just air. Reducing air pollution can be achieved in many ways, but the city of Charlotte developed one of the best ideas without disrupting the standard quality of living in the area. Its cycling program has been underway as of 2012, and successfully eliminated the need for cars and other fume-producing vehicles in the Charlotte's city center.
The bike sharing system of Charlotte is recognized as the first one in the state. Other cities are also practicing the urban cycling system, such as Miami, Boston and Denver. Since the cycling program was implemented not long ago, the government is still planning how to improve urban biking in the city, particularly in the center where traffic is congested. Bike lanes, greenways and a modernized bike-sharing system are expected to multiply in number in the future.
The urban cycling hits two birds in one stone. Aside from reducing a significant amount of air pollution, the exercise can also help fight obesity among the overweight. Health is always a priority among top cities; thus, the government of Charlotte also promotes biking as a healthy way to improve the quality of life.
Watch our Videos
Forerunner Recycling Video Highlights
Who is Forerunner Recycling?
Business Electronic Recycling
FREE Computer Recycling for Companies
We attempt to remove the financial barrier to recycling computer equipment and recycling electronics. By extracting maximum resale value from the systems we recycle, we can offer free recycling services to most of our clients.