Free Commercial Computer Recycling
We make companies' computer recycling easy, environmentally safe and secure!

877-478-6611
YOUR COMPUTER RECYCLING AND E WASTE RECYCLING ANSWER
... with more than 15 years in the computer e waste recycling field, Forerunner Computer Recycling has given Atlanta, GA companies a responsible option to dispose end of life cycle and surplus computer equipment. All Atlanta, GA based companies face the task of safely disposing of older equipment and their e waste. The EPA estimates that as many as 500 million computers e waste will soon become obsolete.
As Atlanta, GA businesses upgrade existing PCs, more computers and other e waste are finding their way into the waste stream. According to the EPA, over two million tons of electronics waste is discarded each year and goes to U.S. landfills.
Now you have a partner in the computer e waste recycling business who understands your need to safely dispose of your computer and electronic equipment in an environmentally responsible manner.
By promoting reuse - computer recycling and electronic recycling - Forerunner Computer Recycling extends the life of computer equipment and reduce e waste. Recycle your computers, recycle your electronics.
Call Us Now To Easily Dispose and Recycle Your E Waste - Free!

404-445-7785

877-478-6611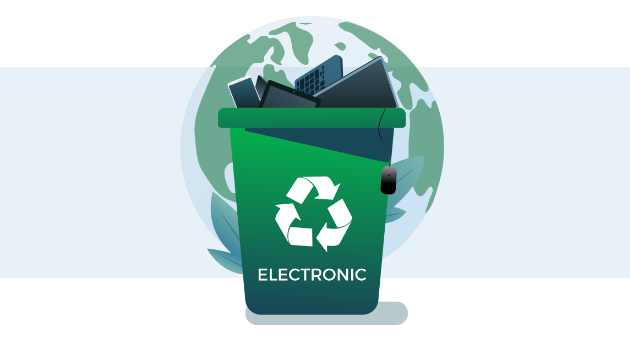 Destroy Your Data Securely
Today, more than ever, Atlanta, GA companies discarding computer equipment are concerned about identity theft, security compliance, and cyber criminals trying to obtain private information. Simply tossing used computer equipment and hard disks into dumpsters will leave companies vulnerable to unscrupulous individuals searching for credit card numbers, social security numbers, and other valuable data.
Forerunner Recycling, your partner in the computer e waste recycling business, understands the need to safely dispose of computer equipment in a manner that guarantees no data is available for exploitation.
Hard drives are erased using the Department of Defense's DoD 5220.22-M standard, or if necessary, hard drives are physically destroyed. We'll do whatever it takes to ensure your company data does not fall into the wrong hands.
Call For More Information

404-445-7785

877-478-6611
Quick City Facts
Atlanta, GA
Form of Government
The Council - Manager Form
Size of City:
132 Square Miles
Yearly Precipitation:
50.77 inches
Meaning of City Name:
Atlanta was named by J. Edgar Thomson, Chief Engineer of the Georgia Railroad. Mr. Thomson gave varying stories about how he came up with the name, but our personal favorite is that the city was named for former Governor Wilson Lumpkin's daughter's. Her middle name was Atalanta, after the fleet-footed goddess.
Major Tourist Attraction:
World of Coca-Cola
Top Employers:
Gwinnett County Public Schools,
Emory University,
Delta Air Lines,
Publix Supermarkets,
Kroger Company
Top Industries:
Wholesale & Retail Trade, Services, Government
Engage yourself to Fun-filled Experiences in the City of Atlanta
After being burnt to the ground during the civil war, the city of Atlanta rose up from nothing and its progress becomes obvious throughout the entire world. Atlanta, Georgia is a place of a great city path where residents and visitors love to walk. You will find Atlanta with a network of parks and streets that are conducive for walking. Taking your break from office work can be done by walking on the streets of Atlanta.
With a metropolitan population of more than five million residents, Atlanta has grown that much. The city is divided into three large areas. The downtown or midtown is the area for the growing businesses, while the Buckhead area in the north of the city is where all the nightclubs and shopping centers are located. In the northeast part of the city is the perimeter center where the residential lands are situated. You will find homes, small shops, and spots perfect for artisans and artists. On the northwest part is situated the Vinings area which is known to have the homes and town houses perfect for the young professionals and higher income wage earners.
Atlanta is a diverse city where there is a great value for cultural awareness and historical importance despite the continuous progress of the city and the high-rising skyscrapers among the buildings. The city is known for the massive peach trees and sweet teas, but what you will like about Atlanta is the site of the ever famous Coke World. There are so many places to visit around Atlanta. The Zoo Atlanta in Grant Park has around 1,500 various kinds of animals and the Atlanta Botanical Garden presents different plants and flowers in seasonal blooms.
Atlanta is also known for its large universities and colleges and residents are privileged to have the means to improve their education, learn about many things, and make their lives better, especially since Atlanta is blessed with institutions that cater to people who are persuasive in honing their skills and knowledge. You will find the University of Georgia, Georgia Tech University, High Museum of Arts, and many prestigious Colleges in Atlanta.
Spend your time and discover the wonderful attractions, historic landmarks, world-class shopping centers, and enjoy special hotel packages with access to amenities and great parks around Atlanta. There are over 700 restaurants offering world-class dining and simple snack and café' perks to hop on, plus the thousands of recreation, adventure, leisure, and entertainment to experience while enjoying your stay in the city of Atlanta.
Watch our Videos
Forerunner Recycling Video Highlights
Who is Forerunner Recycling?
Business Electronic Recycling
FREE Computer Recycling for Companies
We attempt to remove the financial barrier to recycling computer equipment and recycling electronics. By extracting maximum resale value from the systems we recycle, we can offer free recycling services to most of our clients.